BANGBROS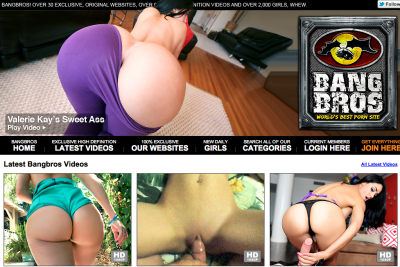 Contents and Category
The site boasts 9,000+ high definition videos, with new ones being added every day. These videos star over 2,000 different girls. Girls include porn stars and amateurs both. The categories of porn on the network are very unique and varied. These include anal, blowjobs, hardcore and lesbian, but also include varied types of girls, from Asian to Latina, from big ass to big tits. Whatever kind of girl you want, doing whatever you want. It's every man's fantasy. Each video is perfectly clear, high definition and crisp and realistic. You are in control of everything at BangBros because you can choose the exact type of video that you want.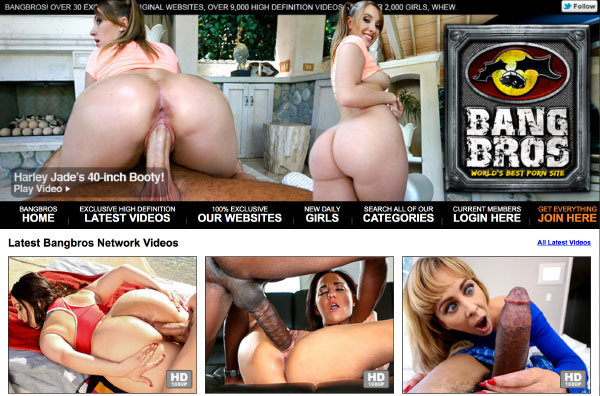 Sub-sites
Bangbros unique and numerous sub-sites include: Big Tits, Round Asses – featuring amateur models with both huge tits and round, full asses, Facial Fest – where new girls get their first facials, Porn Star Spa – porn stars get oiled up and rubbed down, and Back Room Facials – where a first interview for a porn shoot involves experiencing one's first facial. The sites are unique and Bangbros seems to be getting more and more as the time goes by. There is a huge variety. On some similar sites, it seems that the sub-sites all have similar themes, but this one has no such issue.  Everything you want, as varied as you want, it's here.
PornStars/Girls
There are 2000+ porn stars and amateur models featured in videos on Bangbros.com. The site is easy to navigate. You can search girls by latest, most liked, most viewed, most favorited and by name. There are all kinds of models featured on the site. Some are very well known and some are very new up and comers. You'll find some favorites and create some new ones.
Price List
2 Day Trial Membership – $1.00
1 Month Membership – $29.95/month
12 Month Membership – $119.40
Pay by credit card. Very secure, discreet and easy payment. 
Conclusion
The variety of videos featured on Bangbros.com is very impressive. With 9,000+ videos, there is something for absolutely every set of tastes. 2,000+ girls are featured in their videos and this includes seasoned and well known porn stars as well as amateurs and new models. The categories are varied and include types of girls, like Asians, Latinas, big tits and big asses, as well as types of video such as blowjob, facial, anal and lesbian. Any type of model that you want, doing absolutely anything that you could possibly think of. These girls do it all. Whether you're looking for a video featuring an amateur girl, interested in porn, receiving her first facial in the backroom, or are looking for a well-seasoned porn star getting oiled down and fucked at a massage parlor, Bangbros features it. The variety is truly impressive and each of the Bangbros websites(which, did I mention, now totals forty-three?) is shot in perfectly clear high definition and offers something that you can't get off of just any porn site. So grab a membership and enjoy.
Visit BangBros >>