1001DVDS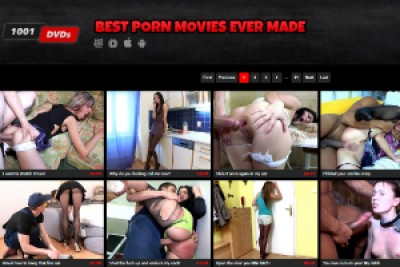 Overview
1001dvds is a paid porn site for all you hardcore desires. On this xxx site, all those who like good straight hardcore action will find themselves at home. Scrolling through the site one can find primarily find hardcore porn and anal porn, both rough. This is a site for those who won't shy away from scenes of women getting their asses ripped by a dudes cock.
Site Content
A layout that is kind of classical, 1001dvds certainly won't intimidate you by its fancy design, but will offer everything to you in plain view. It is made in such a way that the thumbnails while viewing are taking the most of your screen so you can view those fucking scenes nice and clean. Usual layout and usual design with all the necessary functions like ratings, video length, and such are done properly. The design is also classical and practical.
Allowing you shift through whatever content you like at you desired pace. The colors on 1001 DVDs are also nicely chosen to complement one another, black and red. Navigation allows you all the usual searching and listing the content that 1001dvds have to offer to you. So, overall, the design is offering you all the needed features for you to surf through it and at the same time having a couple of nice visual touches sure don't take away from this site. The website is mobile-ready and really fast on showing the content on your mobile device.
Actresses & Video Quality
Girls on this site all get fucked real good, mostly in their asses. Mainly hardcore action on this website is sure to give you a raging hard-on that you won't have trouble getting down. The cast of chicks on 1001 DVDs is varied, offering you to choose from different body builds, hair colors and then viewing them get plowed real hard. Scenes that occur on this website are primarily shot in flats, sometimes the emphasis is on the outdoor action. A big library and the rough sex on this site are sure to leave you entertained. By the looks of it, all girls on this site are amateurs, there are no semi-professionals or professionals.
There are more than 1,500 high-quality videos and almost all videos on 1001dvds last around 20 minutes, including a drop of backstory, but nothing long so you won't have to worry about that taking away from your experience. Videos that are represented here are good quality, some seem to be shot with better equipment that seems to be used in most of the videos. Places in which the fucking occurs are, as I mentioned, flats or outdoors. So the sets have a certain amount of realism added to them. It all seems to be done with a decent crew and good equipment.
In Few Words
1001dvds with its steady and easy to adapt design and other features certainly is a great porn site. What we consider good about this site is the hardcore/anal niche, good membership offers, high-quality content and overall great looking website. Only pros, no cons, worth checking out!
Visit 1001DVDs >>
---
Need to clear further doubts?
Have a look at some other 1001DVDs tips on some other great porn review sites!
---