18PASSPORT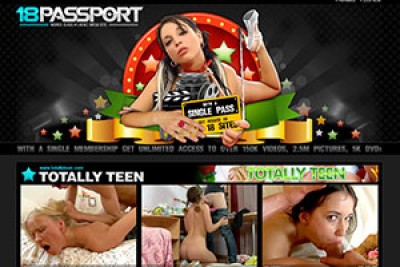 Overview
It is no secret that many people get bored of the membership that they're having and want to try something new that they haven't experienced before. 18Passport knows how important this is, so it has built an entire network of sites of different kinds that suits a lot of tastes and desires, depending on what the person wants. Be it a crazy fetish or some mild, soft porn, a certain preference for women or just downright roleplay, 18Passport's members enjoy the diversity the site brings and they end up trying new things, maybe even getting to know themselves better by doing this. The site is known as the World Class #1 Adult mega site, having many websites in its vast network. Every one of the 150,000 videos and more is in full HD quality, making it a pleasure to watch anything you lay your eyes on. There are also over 5,000 DVDs and 2.5 million pictures in numerous resolutions. The numbers might seem unbelievable, but they are very real and were thought of just to capture as many different porn lovers as the site could.
Site Content
Right from the startup page, you can find out what the 18Passport site is all about, the place where its sites are presented and where there are other nice treats for all types of members. One after another, the sites from the network are listed through screenshots of the best moments in the videos they represent. The name and the site can be found at the top, while every detailed thumbnail can be clicked to be viewed directly on the site. There is also a percentage under each video, making you see how appreciated that video was. You'll surely find only high grades, so any one of them satisfies you in the end. A really nice advantage you have is being able to enjoy all that the site has to offer even when you're not at home. This is because it works perfectly on mobile phones and tablets, and you could download any video or picture that you want and save it for later. Again and again, you can see those couple of videos that turn you on big time and make you press "Play" all over again!
Actresses & Video Quality
There is so much to choose from, but remember that whichever you do is just as great as the next big thing! Every site has its own style and audience, that's true, but that's why each one has to be tried at least once so that you could feel it on your own skin. Literally. For example, "Super sex stars" has your favorite pornstars in them, the ones that you've been dreaming for quite some time. They all have the sexual experience necessary from all these years of hard work and working it hard. They know when and how to look at the camera and make you feel like you're in the room with them. Rough is hot for them and they love every second of it! On the other hand, for the ones looking for the more submissive type, there is always "TotallyTeens" in line. These fresh girls are beginners in the art of sex and they're just trying to find out what their preferences are and what makes their pussies become all wet in an instant. They might be impressed by some big cock being shoved in their face, but in the end, they're not afraid to play with it and give it a good try.
If there are any fetishists out there, then the "Dungeon Masters" site is the place that they'd better check out! Some videos might be on the more vanilla side, such as a mild whipping or a gag in someone's mouth, while others have girls' whole bodies tied with chains from the ceiling or locked in cages, waiting helplessly for some penetration. The struggle is just acting, as it turns on the people that are watching them, but also themselves in return. For the ones who girl-on-girl action is more of their thing, "Toys in chicks" and "All hot lesbians" are definitely a must watch! Who wouldn't get turned on by two females playing with themselves and each other, while they're in the same room? The same goes if they have a toy at hand. There's a lot of penetrating going on and it all revolves around toys. Okay, maybe some tongue-licking and fingers, too, but that is a must for anyone wanting to be turned on. These girls really know how to push the right buttons and have a good time in each other's companies. For some exotic treatment, "Erotic Asians" and "Erotic Japan" are just the right things for you! The shy and cute smiley ladies with their flowing black, silky hair have all the skills that they need to make you feel right at home. Their hairy pussies need a lot of carrying after, and the men they're with have the means of caressing them exactly where they want to. Their perky nipples and tight bums add a nice flavor to everything and make it incredibly enjoyable to watch! These are just a few, but there are many more sites and they will never let you or your fantasies down. These girls are here for the taking and you could have any one you want, right in front of your screen at just a click distance!
In Few Words
The 18Passport site is a dream cum true for any lover of porn out there and it brings something different to what everyone is used to. From your normal full HD quality videos, downloadable pictures and smartphone/tablet accessibility to the true unique option of watching whatever type of porn you want with the same membership bought at the beginning. There's just so much to choose from that you can never get it wrong. So, whatever your kink is, you can bet that the site has it and you can become a member any time and dwell into its world!
This site has been closed, check out more top adult networks on our best porn networks collection.