ALLGRAVURE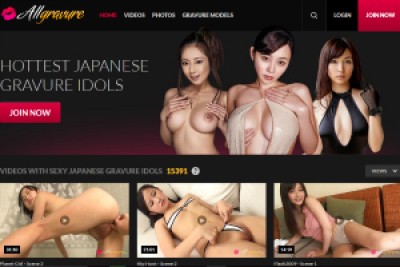 Overview
AllGravure is the premier website to find the hottest Japanese gravure idols. Here you will find hundreds of the finest Japanese gravure models showing off in their sexiest outfits as they tease and pose in some of the most breathtakingly erotic softcore photos and videos you have ever seen. Let these girls seduce you as they straddle the line between sweet innocence and naughty eroticism.
Site Content
Do you find yourself interested in Japanese women? It's only natural if you are. There's something incredibly appealing about the way Japanese girls can appear shy and demure, yet at the same time also sexy and naughty. This quality of being able to straddle the line between the innocent and the erotic can be best seen in the finest Japanese gravure idols here at AllGravure.
AllGravure has made its name as a top provider of quality Japanese gravure video and photography. They have an incredibly massive collection of over ten thousand videos of hot Japanese softcore porn, and hundreds of your favorite gravure idols in their gallery. Browsing through this huge collection is a breeze, as navigation is very intuitive user friendly. There are three main site links to pay attention to: videos, photos, and gravure models.
There are over six thousand sexy Japanese gravure videos on the website to choose from. Follow the girls on location shoots to the beach where they bounce around in their skimpy bikinis and play in the surf and sand. Watch as they go swimming in a pool, their wet swimsuits clinging tightly to their bodies and leaving nothing to the imagination. Stare in awe as they show off their sexy bodies to the camera, running their hands down their curves as they slowly strip the clothing from their bodies in sensual tribute to the female form.
In addition to the videos, there are thousands of photographs on the site that are also worth paying attention to. There are beautiful location shots of the girls in their sexy outfits, intimate lingerie, or bikinis. Sometimes they even pose nude. There are also some hot and sexy cosplay photos for you to enjoy.
If there's a particular sort of Asian model that turns you on, then this site is sure to have what you're looking for. Do you find yourself attracted to the slim-breasted Japanese girl next door type? Or perhaps your preference is for the buxom and elegant Asian beauty? AllGravure has hundreds of the hottest Japanese gravure idols in their gallery with a wide-ranging variety of looks to choose from, so you're certain to find the gravure idol that turns you on the most.
The site's gallery page for gravure models is very well organized and easy to navigate. You can choose to navigate by newest, or you could use the links to browse by alphabet. The thumbnails are big to give you a clear preview of each hot model to make it easier for you to pick whichever gravure model you find most arousing. The thumbnails also indicate the number of photos and videos each model has on the site.
In terms of usability, AllGravure provides a set of member tools that make your browsing more enjoyable. Members can choose to add things to their favorites to make things easier to keep track of. You can choose to add certain models to your favorites. Or you can choose to favorite individual videos or photo galleries, if that's what you prefer. The site also provides unlimited downloads, with no download limits, so you can save your favorite videos and photo sets any time you want.
In addition to the already huge collection of Japanese gravure porn already on the website, new videos and photos are added regularly to AllGravure, keeping the site fresh and ensuring that there will always be new premium quality softcore content to keep members happy.
Actresses & Video Quality
If you're looking for the finest collection of Japanese gravure idols, then look no further. AllGravure features some of the loveliest Japanese models to star in a gravure photo or video shoot. These girls are no slouch when it comes to looks. You'll find many different kinds of Japanese girls here, from the shy and demure maidens to the elegant and daring femme fatales. See them smile and pose for the camera in astonishingly erotic photos and videos that capture the sexiness and arousing beauty of the female form.
The videos are incredibly arousing. There are on-location shoots, usually at the beach or pool, where the models splash and play for the camera. The girls look amazingly hot with their skimpy swimsuits and bikinis tightly clingy to their skin. Other videos have a more intimate setting, such as in a bedroom or similar, where the models show off their sexy lingerie as they tease and pose erotically for the camera.
The videos sometimes start off slow, as each girl is allowed to set their own pace, but each scene gets more and more erotic as the girl gets more comfortable. These girls have turned teasing into an art form. Watch them caress themselves sensually, stroking their breasts and pulling on their nipples as they give in to their desire. By the time they've stripped completely naked, you'll be so turned on that you'll feel like you could burst any second.
In Few Words
There's no finer collection of beautiful Japanese softcore porn than at AllGravure. Immerse yourself in the amazingly erotic world of Japanese gravure and marvel at these exotic Asian beauties as they prove that innocence can also be incredibly hot and sexy. With more than fifteen thousand fantastically sensual videos of the finest Japanese gravure idols available, your membership is truly worth it.
Visit AllGravure >>
---
Need to clear further doubts?
Have a look at some other ALLGRAVURE tips on some other great porn review sites!
---