AMERICANDAYDREAMS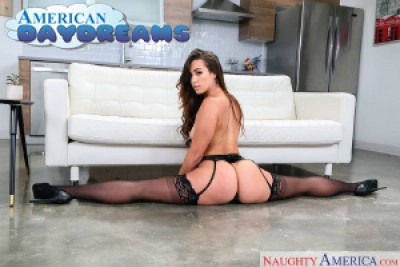 Overview
American Daydreams is the heaven of all the American good porn you can handle and even more. From the lusty stars like Nicole Aniston and Jada Stevens to the Asian goddess Katsuni, you can find the most professional girls in the adult business on one single website. MILFs, who like to get sticky while sucking the cock and fresh faces who can't get enough, fucking in their tight asses, the website offers all what you can dream of, just as the name implies. The chicks are American, with some exceptions, but hey! These exceptions come in so horny you can't get rid of them. Unlimited porn and live shows, plus lots of themed scenes, American Daydreams has them all, plus a couple of good porn articles on the stars featured in their scenes. That is if you can keep your hand on the mouse, while browsing the website. And the whole network of American Naughtiness is guaranteed to make you moan while these sluts suck it hard!
Site Content
American Daydreams is part of the large network called Naughty America, which means that you'll get access to over 40 different websites, each one filled with high-quality porn. What to expect? Everything! The horny Americans like to get their asses fucked hard and long in gang bangs, threesomes and juicy one on one scenes. There are fresh faces to cum over, many popular themes to enjoy and plenty of chicks to watch as they suck the love of their love, which is the dick. Watch how the neighbor's wife gets drilled by a hard cock, see the teacher giving a lesson in how to fuck it good and then check how a porn star is born on the website dedicated to amateur videos. All come in the same full HD high quality you've enjoyed on American daydreams, so you are on for many hours of play. If you want to know the girls better, you can watch the porn stars interviews within the American daydreams host-network and see what are the best positions for deep penetration and how to finger a slut the proper way to make her swallowed pussy squirt. If you still want more, browse the photo albums from the network and study the sluts in detail.
Actresses & Video Quality
From the desperate housewives who ask for your hard cock you can jump right into the soft pussies of some nubile gals who are willing to fuck hard everywhere, in each and every of their tight holes. Slap those butts or grab those huge boobs to make these whores moan! And speaking of asses, there is nothing better than Jada Steven's chubby cheeks. If you haven't seen this one in action, you haven't seen porn at all! Most of the girls like to show off their pussies, so they keep them well shaved, but you can also find some hairy action, tattoos and piercings. When it comes to quality, the girls are not the only ones who keep up the high standards: American daydreams offers HD movies, so clear you can see the flesh shaking and count the goose bumps in those sluts, as they fuck like crazy and get their pussies enlarged by hunks like you. If you don't want to leave all that action behind, you can just take it with you, as American daydreams come fully optimized for mobile devices. Access the hottest cougars and take part in co-ed fantasies right from your mobile phone, tablet or even Kindle! Find a Wi-Fi connection and get down to it, and then hide it in your purse of pocket when you are ready to go. If you are more of a stay-at-home person, that's cool, American Daydreams runs on Playstation, television and Roku, all for your pleasure.
In Few Words
With all the dreamy action going on in American daydreams, you don't need to worry for your safety: all the information you provide to the network are kept safe by Naughty America. The websites comply with the record keeping laws and regulations and work with reliable payment operators to make you feel comfortable. In terms of discretion, all that happens in Naughty America stays in Naughty America! Get all the naughty experiences of these horny American chicks can give you with one account for the entire 40+ sites network. There are multiple membership plans to choose from, as the network wants to keep things diverse, in the true American style.
Warm yourself up, or wet yourself up, with the three-day trial at $1.95, then advance to the hardcore of American porn living an entire week of 7 days at $4.95 in this horny country. For only $24.95 you can get the monthly membership plan and enjoy lots of sucking and fucking. But when you think America, you think big: one year plan is just $7.95 per month and grants you access to millions of scenes! Now here is a cute feature: you can pay for the monthly plan by using a gift card to pay for the membership plan. With all these benefits, you really want to walk over the Ellis Island and enter a world of American daydreams, naughty chicks and thousands of opportunities coming in weekly as the websites are being updated. This really makes you proud of being a member of Naughty America, so grab your plan and start playing with these horny sluts inside the biggest American porn network.
Visit American Daydreams >>