ASIANSBONDAGE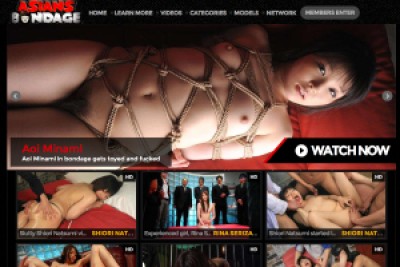 Overview
Strapped, tied, up, spanked, gagged, blindfolded, and drenched in throbbing feelings of the most excruciating type, these pretty Asian angels still outperform and dazzle us with some of the craziest, nastiest, and most electrifying sex shows on the planet. Welcome to AsiansBondage, that one of a kind website that offers spectacle to all who like fetishism, who prefer BDSM, and who find thrill in the aching and agonizing screams of fresh starlets. This site is filled to the brim with amazing and breathtaking ruthless fucking, earth shaking orgasms, incredible squirt pissing, nonstop shrieking, loud moaning, and intense screaming. It is that one site that demands you turn down the volume of your TV or computer set because of the consistent moaning and yelling; incredible noise made by these lovely damsels as every stroke of cock keeps pounding them expertly.
This is no site for the lily-livered and soft at heart, it's no place for people who cannot handle intense pressure and nonstop whipping with the most unbelievable chains and leather whips. AsiansBondage was specifically designed to separate the weak from the strong, the lads from real men, and lazy minds from the creative. It is offered exclusively to those who seek special sex types different from the ones we see all over the internet. This is that one site that would completely blow your mind and leave your jaw dropping. It is the ultimate fetish and BDSM porn site, not just in Asia, but in the entire universe.
With restraining devices that even the great Houdini cannot escape from and red crimson stuff all over their bodies, these ladies get turned on in the most spectacular manner, become wild, and start doing all the weirdest and nastiest things you can think about. That they are securely tied down does not stop these angels of hell from performing splendid fuck shows that would make every man cringe in their seats and take their minds to wonderland.
Slim, well built, strong, daring, and pretty to the core, these chicks dig deep into their inner crevices to find even more strength and tenacity to withstand whatever is thrown at them. No matter how jagged or massive the dildo is, no matter how tightly they have been tied, and no matter the level of excruciating ache they are passing through, they just keep going on until their captors are fully satisfied. What defiance, what energy, and what vigor these chicks display; it's simply out of this world.
Their endurance level has been built up over time, making them the true spectacles of the world of bizarre fucking. No European or American can withstand so much intensity and breathtaking fuck actions in such positions. Perhaps the diet and local conditions of their weather and terrain are factors that have made these chicks the queens of weird fucking. They are so acrobatic, flexible, and full of amazing skills and techniques that make the videos even more exceptional and invigorating. This is the ultimate site for all those who have been wasting so much time and money looking for tube videos to satisfy their longings and kinky sexual desires. Now we all have a one stop shop to find the greatest of weird and bizarre sex online. With so much content, so many damsels on display, and so many videos to savor from, you can bet your last cent that this is the true and final destination for all fetish porn lovers.
Site Content
The technology used to design and present AsiansBondage is unmatched and unequaled. This site is the product of years of research, careful planning, and consistent evolution. The result is there for all to see, stunning world class videos like never seen before. Every single video on this site is recorded with super HD format making it easy and even more flexible to convert into other lower formats and download. No matter the device you have, no matter the media player, and no matter the operating system, AsiansBondage would open and play on it. That is the power of technology. Users are completely protected and secured on this site. With the latest anti-spam and anti-scam software, you can enjoy the site with rest of mind whenever, and wherever. Also, users are given access to a well-trained staff waiting behind the scene to help with any issues at all. Payment is flexible and based on user's choice. Monthly, quarterly, or yearly subscription is all available depending to what the user wants.
Actresses & Video Quality
The Asian damsels featured on AsiansBondage are extraordinary and simply splendid. These are the most intriguing and fantastic chicks the lands of the Orient have to offer. And with training, consistent grooming, and nonstop exposure to new ideas and more technology, they keep evolving and becoming better show stoppers.
These ladies are sought from the provinces of Japan, Vietnam, Thailand, Malaysia, the Philippines, and every other part of Asia; so, be ready to get wowed by a diversity of colors, backgrounds, sex stunts, skills, and amazing moves. This diversity and complementing array of great chicks make the site even more spectacular and exciting at all times. No boredom, no drab scenes; just great fun all through.
In Few Words
Fetishism has added another class to its description. AsiansBondage is a world class and amazing fetish website that is in a world of its own. It's gorgeous to use, simple to navigate through, well priced, filled with action, and technologically advanced. All these have been done to ensure that users enjoy a great time on the site at all times. Don't let all these go to waste; get on board today and be a part of AsiansBondage!
This site has been closed, find more great Asian porn stuff on this best Asian porn sites list.