ASIANSEXDIARY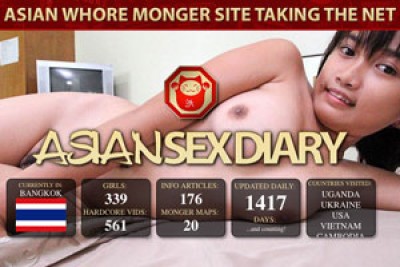 Overview
Asiansexdiary is an Asian porn site that follows the trail of a one John as he travels around Asia on a sex pleasure tour mission. If you thought that John is your typical tourist on site seeing visits, you are dead wrong. John is a virile fucker with a marked appetite for Asian Girls. The dude gets hot Asian girls in his hotel room and gives them a fuck of their lives. I haven't viewed steamier sex action in a long time.
Site Content
The site has a special plan that encourages users to participate in community forums that allow them to get into a contest that leads to access to bonus content. The participants accumulate points on the community forum and then unlock special scenes in which John is captured on camera as he drills away into the hot sexy Asian cuties in various locations. You may have noticed, already, that the site presents some unconventional aspects and features that are not on most western porn sites. Well, the twist goes on. There is a unique design and layout that characterizes this site. The unusual antics notwithstanding, the site presents a very clear layout and categorization of the services they provide. There are many captions of the action scenes as thumbnails with active tags that lead to the various scenes of John and his Asian models in the sack. I loved the section labeled ''my trophies''. This section is basically the backbone of the sites entertainment content. You are given the rights to access John's escapades in various locations along with the fine details about the models and their origins once you subscribe to the service on the site. The site is optimized for mobile access. So I had no problems when I tried to access my favorite sections with my Smartphone. Another plus I noticed about this site is that there is a constant update. Indeed, there is an update of their videos and pics every week.
Actresses & Video Quality
As I have mentioned earlier, the girls are absolutely gorgeous. You have more reason to visit this site for the sheer enjoyment of viewing the girls in their skin if nothing else ticks you. It is fully loaded with entertainment content. There are over 540 scenes to savor once you subscribe. You are provided with a detailed account of how John achieved his goals of laying these pretty girls. You access such details when you peruse through his diary that details his conquest. I was thoroughly entertained with the content on this site. The action involves a lot more than John. There are several scenes in which girls are seen sucking at the cherries of other girls. The models are daring and expert in what they. They bend, hold, squeeze caress, and take in cocks with so much ease you that I wish to be the one in their hands. The amount of content available is breathtaking. There is a lot of content on this site. You have over 540 videos that are split into one minute playback each. Users are privy to a similar number of galleries with 50 pics per set. The files are available in Flash Player format. You can only stream the videos, so there is no ZIP download option on the site.
In Few Words
You will want to visit this site many times if you admire the sex appeal of Asian cuties. I must admit I got a treat of my life and a fulfillment of my fantasy on asiansexdiary. Watching Asian girls take so much cock is not only exciting but thrilling for a community that seems so closely knit.
Visit Asian Sex Diary >>