AVYSCOTT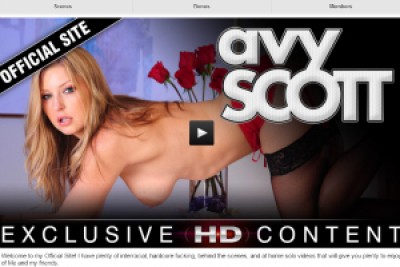 Overview
One of the top pornstar sites to watch is Avy Scott. The model shows her skills in solo masturbation scenes and sometimes invites her friends over too. She'll do girl on girl videos and sometimes guys join in too. From toy play to jumping on a big dick, Avy Scott has a variety of HD pornstar videos.
Site Content
The layout on Avy Scott is simple in its design. There are at least 20 previews available as screenshots. All of them have specifications in regards to length and models involved, as well as a title that describes the scene. None of them can be played unless you're a member. The main menu is at the top of the site and leads to the member area, sign up or login and bonus page. There are no search options to speak of. The scenes page will display the complete gallery of videos and picture galleries. Some behind the scenes footage and interviews are also available but, for members only.
A trailer is available for visitors. It consists of just 2 minutes of Avy showcasing here solo skills as well as her cock sucking, fingering and pussy licking abilities. You'll get to see some of her friends that on occasion join her videos. If you decide to join you have 3 plans. The shortest is the 5 days membership followed by a one month membership. The longest plan is for 5 months. It doesn't matter which one you choose, you'll get the same benefits regardless of period. Members have are also given access to over 70 more sites similar to Avy Scott. They are all part of the PUBA network, and feature other prominent pornstars.
Actresses & Video Quality
You should have guessed by now that Avy Scott is all about Avy Scott. The model has appeared in over 280 porn productions. Her blue eyes and long blonde hair, paired with her curvy ass and huge natural boobs will make you want to watch until you go blind. There will be other pornstars featured alongside Avy, but never without her. Since she loves interracial so much, expect to see both straight and lesbian scenes in this category. This bi goddess of sex invites other pornstars with either huge tits or long dicks.
The videos of Avy are all displayed in excellent quality. I'm talking about crystal clear HD for both download and streaming. It doesn't matter if they are exclusive to the site or not. The same attention to detail and quality is applied to all content, including the pictures and behind the scenes footage. The videos can be anywhere from 9 minutes to over 30. It all depends on whether she's alone, or fucking someone else. There are no limits to what Avy can do on camera so I've seen anything from solo stuff on the bed to threesomes. There's a lot of stuff to go through. There are also a lot of live shows. If you're lucky enough to catch one, you'll be in for a treat. They are usually announced. On a daily basis, updates are made to the site. They could be pictures, new scenes, new interviews, it doesn't really matter. New content every day is something to look forward to.
In Few Words
Seeing such a great looking model as Avy Scott is a pleasure anytime. Having the chance to browse through tons of her work on a single site is just awesome. There is a lot of content already, and new stuff is being uploaded every single day and that's one of the biggest perks of being a member. The extra 70 or so websites are not too shabby either. It's like getting free presents.
Visit Avy Scott >>
---
Need to clear further doubts?
Have a look at some other AVY SCOTT tips on some other great porn review sites!
---