BADOINKVR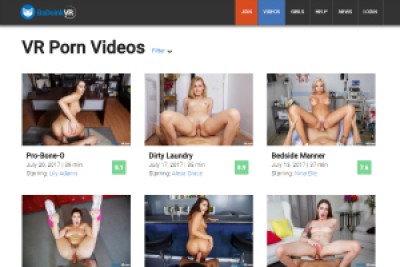 Overview
Great VR porn site, BadoinkVR is certainly one of your top choices if you're a fan of hardcore scenes that are viewable using your VR gear. In our world today where technology seems to have no limits, you can easily satisfy your porn lust and cravings in the closest to reality experience! With a huge and exclusive collection that is compatible with Gear VR, HTC Vive, Oculus, Daydream View, and PSVR and even with your smartphone, get ready to delve in the hottest world of hardcore porn!
Site Content
If you're still not yet familiar with VR porn, let me brief you somehow. It's where you find a porn site that offers VR videos, then you apply for membership, you download a compatible player and you put on your compatible VR glasses. And that's it! You can experience the best porn watching experience of your life as you would be able to feel that you are inside the porn studios and watching the models fucking and devouring each other in all ways possible! It's like you are the director and the models look so close you can almost smell and touch them.
Visiting the homepage, you would be amazed at how the collection looks so professional. With a full-screen banner that shows a dazzling sweetheart who sucks a massive cock while looking straightly at you, I doubt if you wouldn't have a rock hard shaft at once. The banner has complete details as well which would convince you to stay longer within the collection. Browsing down, you would see the VR videos with real steamy screencaps. They come in nice sizes and the layout is very clean to look at. Once you've pointed your cursor on a particular thumbnail, you would be invited to watch a free trailer. However, you have to choose on great membership offers before you can proceed. But do not worry; the pictures of the stunning sweethearts here can be feasted on for free! They look sensual and highly sophisticated and from their smiles, you can pretty much guess that they would give and do everything just to satisfy you. With the site's user-friendly design and interface, you would surely find your way to the entire content easily.
Once you've become a member, which I highly recommend, of course, you would surely be impressed with the presentation of the videos. Viewable in 180-degree views and 3D, the scenes are spectacular to watch. This is where you'll find the hottest straight up vanilla porn that is filled with nasty and sloppy blowjobs, pussy licking, fingering and also anal sex. The VR videos have brief and steamy descriptions and they come complete with sets of screenshots as well. There are amazing and helpful technical details too like the visual range field, 3D and HD designations and frames per second. The full running time of the VR movies is also on display. If you're a porn technology fan and at the same time a certified hardcore fan, then BadoinkVR would surely get your rocks off!
Actresses & Video Quality
The models that await you inside BadoinkVR are in the most active years of their lives. They are evidently not a stranger when it comes to porn. As a fairly new porn site, this community has done quite a lot when it comes to the powerhouse models and video collection. I doubt if you wouldn't have multiple orgasms here while the chicks are gliding and riding your dick! The VR experience is so real you can almost feel their sweaty bodies touching your skin! From doggy styles to reverse cowgirl positions, these models surely got you covered!
In Few Words
BadoinkVR is a high-tech porn site that offers virtual reality scenes that are shot from the POV perspective. This experience makes it easier for you to imagine yourself being rubbed and licked by these beautiful performers. Even if you don't have your VR gear ready yet, you can still view the videos in top-rated pornography. This porn site brings you the most immersive and interactive experience when it comes to virtual reality porn. You would surely enjoy the naughtiest darlings doing the extra mile only for you! So check out this VR community today and get your gear ready!
Visit BaDoinkVR >>
---
Need to clear further doubts?
Have a look at some other BADOINKVR tips on some other great porn review sites!
---