BAEB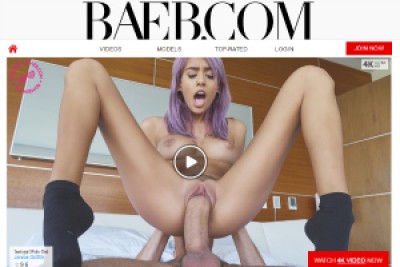 Overview
If you're looking for the best place to find the hottest and sexiest hardcore porn action, the Baeb is the website for you. In here you will find some of the finest models performing in the most exciting hardcore videos you will see, all captured in 4K ultra high definition for your viewing pleasure. When it comes to hardcore porn, Baeb is the site to watch.
Site Content
In porn, as with everything in life, you'll want only the best. That's why Baeb provides the hottest and most intense XXX hardcore porn videos in super clear 4k ultra high definition. You will be amazed at the incredible detail of each sizzling scene. Watch as the girls grope and caress their breasts, their nipples growing visibly erect with arousal. Hear them pant and moan as their bodies shake with each vigorous thrust. The quality of each video is so clear and vivid, it's like you were actually there. Trust me, you've never seen porn like this!
High-quality videos need a high-quality website to present them, and Baeb has that covered, too. The site design is very user-friendly. When you load the website, it's clear to see that the focus of the layout is on the video content. The video thumbnails don't crowd the page and are just large enough to give you a decent preview of what the video is about without distracting you from the rest of the page's contents. You can browse through their gallery of models featured on the site, or you can choose to search through their list top-rated videos to see the website favorites. Navigation is really quick and easy as there are only a few clicks needed to hop around the site.
Of course, having high definition videos only matters if the video content itself is worth the quality, and at Baeb, it definitely is. Each fantastic video on the website is easily some of the most arousing hardcore porn you'll ever see. The girls are all very hot and sensual, and their graceful and seductive moves guarantee that you'll be hard the entire time you're watching. These ladies have dropped all their inhibitions, if they've even had then in the first place, and will do anything to satisfy their burning lust.
Baeb specializes in providing high quality and high-resolution videos for you to enjoy. However, they also provide alternate formats of all their videos in order to cater to different platforms or devices. In addition to the 4K ultra high definition format that is the site's specialization, they also have videos available in 1080p, 720p, and 480p resolutions. The lower resolution videos are perfect for viewing on mobile phones and other low-resolution devices. You can also choose those resolutions if bandwidth is a concern, since the lower the resolution, the lesser the video file size.
In addition to streaming, Baeb also makes all videos available to you for download. All the downloads are DRM-free, so you can freely transfer them to other devices should you want to. You can even watch them on your mobile phone. Being able to download the videos gives you the advantage of being able to watch them later even if you don't have internet service.
The length of the videos can vary a little, but they're always "full length" movies of up to 30 minutes or more. There are no short clips here to get you hot, only to leave you blue-balled. No, you get half an hour of steaming hot hardcore porn in every video!
The video collection available on Baeb is really quite impressive, but they don't want to stop there. New videos are always being added two to three times a week. Having regular updates like this ensures that content always remains fresh and helps keep the website growing. This guarantees that every member will always have some new sexy video every week to satisfy their lust.
Actresses & Video Quality
As mentioned previously, Baeb delivers their movies in 4k ultra high definition resolution, giving you the best quality videos you could ask for. Their collection of hardcore porn movies has a professional quality, which you'll certainly appreciate. Every red-hot scene comes to life on your screen in crystal clarity, and you'll be able to see down to every last detail of the hot, carnal action.
The models on the site are, without a doubt, among the hottest and sexiest in the porn industry today. These seductive beauties are sure to get your libido rising as they twist and moan with every hard thrust of a cock into their tight pussies. These girls absolutely love sex, and the rougher, the better! See them tease and seduce their men until he can't take it anymore and bends them over a bed or kitchen counter, and watch them get pounded every which way on-screen in non-stop, hardcore XXX action.
Baeb features some of the most popular and most promising porn actress in the business. You'll find familiar names, like the former Japanese gravure idol and 2013 Penthouse Pet of the Month, Marika Hase, and the 34th AVN Awards Favorite Female Performer, Riley Reid. You will also find many promising new porn starlets making a name for themselves in the industry.
In Few Words
There's a reason why Baeb is the number one premium hardcore porn website on the internet. Each naughty video is an erotic masterpiece, captured with only the best high definition cameras. A site membership grants you access to some of the hottest and sexiest hardcore HD porn videos available, a collection that keeps on growing with regular updates several times a week. Don't pass up this opportunity, become a member now!
Visit Baeb >>
---
Need to clear further doubts?
Have a look at some other BAEB tips on some other great porn review sites!
---