BEAVERHUNT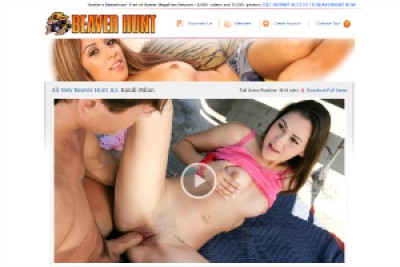 Overview
Picking up potential lovers is more an art than a science. In fact, making love is an art too; sex in public or in the privacy of four walls is a beautiful artwork that no one gets tired of. Thank the stars for Hustler for perfecting that art, and we can credit that to their being more than 40 years in the porn industry. The fact that they've done the dirty in nearly half a century and they're still going strong makes a strong argument for viewers to trust them with their erotic entertainment.
In particular, Hustler's BeaverHunt is a well thought out concept and play on the Public Sex niche. They make it look extremely easy to go out and find that next willing and eager woman who'll spread her legs in front of a camera. What makes their product an art is the perfect balance that is managed by their team on making the videos both professional yet seeming amateur at the same time. They invite the hottest looking ladies to engage in a seemingly spontaneous round (or several) of naked pleasure wrestling in slightly hidden corners of the outdoors.
The very capable hands (and other appendages) of the people behind BeaverHunt and Hustler are more than able to deliver on the promise of an explosive yet sensuous orgasm. Members are treated with not just tons of videos updated daily, but also to screenshots and photo galleries of erotic parties, access to their digital magazine, live camera shows, access to their other sites and so much more.
Site Content
BeaverHunt's site is intent on showing its guests a good time directly from the first page. The simple and clean design lets the viewer's eyes go directly to the first video on the page, with the starring lady's name, a brief description of the movie's premise and a couple of screenshots to tease the viewer further on the movie's content. A distinctive feature BeaverHunt has that other sites don't is their mini boxes that give a short run down on the girl's statistics just below the actual videos. There's no more need to guess from the pictures on the girl's features. If a guy prefers blondes with blue eyes to brunettes with hazel eyes, then they'll be able to find their perfect model through this little corner. Talk about advanced searching.
Other than the readily available videos for download, the galleries that accompany these will boast up to hundreds of pictures for the eyes to feast on. The quick streaming time makes uninterrupted pleasure more than possible, up to HD quality in any sort of browser or mobile platform a guy could want.
Niches come from the most common everyday-man's sexual fantasy and situations. This one works from the fantasy that girls who're ready to go down on a man (sometimes a woman) are as easy as they come. It's very sexy to think that the streets (or the beach, the hike trail, anywhere really) are teeming with sexually, passionately open women. BeaverHunt has been doing this for longer than the internet has existed. It's no wonder that they're consistently the best provider for this and many other niche movies.
Actresses & Video Quality
The stars of BeaverHunt's productions are a mix of professional porn stars and amateur and accomplished women from the streets. Their movies are still one step ahead of this possibly perplexing fact, by making the premises of their videos as convincing and authentic as possible. Lovely beauties who've established themselves in the industry like Kandi Milan, Tara Lynn Foxx and Bella Banxx just happened to cross paths with the BeaverHunt's team one day and 'what the hell, let's fuck!'. These ladies do have their everyday chores or rest days like the rest of the world, theirs just have a smattering of random recorded sex mixed in at times.
The logic is doubtlessly believable in their movies. Like when tattooed temptress Emma Mae was out looking for her lost dog. What better way for her to express her gratitude to her dog rescuer named Brian (mentally nudging more than a few Family Guy fans of the happy coincidence) than to give him a mind-blowing blowjob, followed by a good ol' fashioned "thank you" fuck. And when sweet April O'Neil was spotted struggling with her (literal) dirty laundry, she received a helping hand from considerate guy Mike. April considered it for a second before obliging the man with some thanks and a lay on top of the laundromat machines. A guy decides he wants to see his horny fuck another girl. They go out hunting for pussy and find amorous Shyla Jennings.
The girls are definitely not holding anything back, making the most out of their hot girl on girl opportunity and showing it all on camera. There are thousands and thousands more where these came from; all of this can be found exclusively in BeaverHunt.
In Few Words
What else is needed to convince the more stubborn readers to join BeaverHunt's exclusive membership more than what has already been described? The level of indifference one would have, to be able to resist the temptations presented by BeaverHunt's bounty, must be extraordinarily high. It's difficult to even just pretend to be unaffected by the poses and views one would find in the site. If they were truly so disinterested, they'd likely be zombies already. Not any true blue human, straight, bi or neither, can resist the raw carnal pull that Hustler's BeaverHunt has perfected. They've managed to achieve that charming balance between raunchy yet alluring.
Visit Beaverhunt >>
---
Need to clear further doubts?
Have a look at some other BEAVERHUNT tips on some other great porn review sites!
---