BIGANDREADY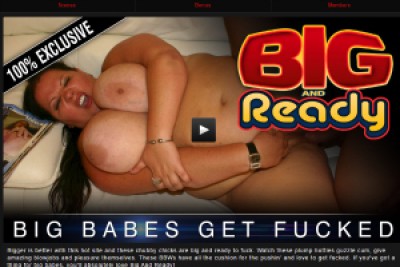 Overview
When I entered BigAndReady I knew I stepped in the BBW paradise. Bigandready is a top premium porn website that has a collection of chunky girls doing hardcore sex and loving it. They are all clearly in love with pleasuring themselves using a dildo, a guy or two or even other girls.
Site Content
When I first entered BigAndReady I was on my phone. I was thrilled to see that the website is mobile friendly and it adapted to my phone immediately so I can see all the videos that they have better. The dark background and the red letters reminded me of the Amsterdam red light district so I wanted to see more. The PC version of Big And Ready is not bad either. The homepage adapts to my scrolling so as I scroll down to see more preview pictures of videos, more photos load. That`s why even if I don`t have the best internet connection ever, the site loads quickly and downloads more of it as I want to see other videos to choose from.
The videos seem randomly set on the page and all of them are clickable in order to go to the respective video. The layout is great for going through lots of previews fast and choosing the right one in seconds. Before choosing a video you can see a title in white letters, inspect the length of the video and see which girls are starring in them.
Actresses & Video Quality
The women of BigAndReady are clearly chunky and loving sex. The site`s name is perfectly chosen as the girls here are huge and they are doing everything from blowjobs to anal sex with the utmost pleasure and desire. They clearly enjoy what they do and they would do it all day long. The trailer that you can see on the homepage of the site shows everything you need to know about Big And Ready. You can clearly see lots of really chunky girls being drilled from every position and in all holes. When they run out of holes they create new ones. This is clearly the greatest advantage of BBW as the excess fat creates new opportunities you could never take advantage of with other girls.
The girls look great for fat chicks. They are all clean, even if what they do is extremely dirty. Even if they love eating and they probably don`t go to the gym, they still make sure they shave all excess hair and maintain beautiful pink pussies and perfect butts. Even though they take care of themselves the women on Big And Ready are clearly not pornstars or other professionals. Most videos seem amateur but the selection is clearly made with great attention to detail as only those amateur movies that are worth watching are on BigAndReady. The filming must be impeccable, the quality must be good and the viewer must be in awe thank to the final piece released for members.
In Few Words
Big And Ready has a selection of BBW movies that follow through a set of 3 criteria. Firstly, the girls in the movies must be round and huge. Secondly, the quality of the videos must be high so that viewers enjoy them a lot (I know I did). Thirdly, all the girls on Big And Ready must love having sex and you can`t fake the satisfaction you see on their faces when they have sex.
Visit Big And Ready >>