BIGBOOTYTGIRLS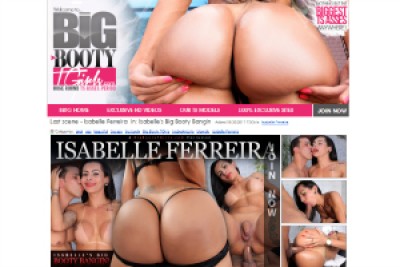 Overview
BigBootyTGirls is a fine tranny porn site coming from the stable of Trans500, the most famous tranny porn network in the world. BigBootyTGirls specializes in offering exclusive big booty trannies, who love to shake their booties to get the adrenaline rushing to your cocks, and set your temperatures soaring. This focus on big booties makes BigBootyTGirls a unique site. Experts in the art of receiving and giving sexual pleasures, these big booty trannies love to suck cocks, get their asses pounded insanely or even fuck a slut's cunt and asshole. The versatility that trannies bring to the porn industry is unmatched, and can give both men and women a hard time. And that's where trannies score brownie points and manage to give you a great porn experience.
At some point of time in the past, you may have fantasized having breasts and cock, and roam in a chick's room, only for her to later find out that you've got a cock. Wasn't that exciting? If yes, then, this is the site for you to re-live those fantasies. Now, instead of you, there are trannies who have these exquisite breasts and cocks, fucking the hell out of guys, girls and trannies alike. If this simple and brief overview is enticing, then we suggest you read the rest of this review. You will get all information you require about this site, and we hope, it will be helpful in arriving at an informed decision. This review covers the design and features that set BigBootyTGirls apart and the girls and videos that grace this amazing site, before heading to a conclusion, imploring you to subscribe.
Site Content
BigBootyTGirls gives you a great impression the moment you enter it. This great first impression is sufficient for you to explore the site, and seek what more is offered to you. Like many other porn sites, BigBootyTGirls is filled with pictures and picture based links. The header has a scrolling slideshow, featuring bootylicious asses of Giana Becker and Bruna Butterfly. A banner below the tabs gives you the latest video uploaded to BigBootyTGirls. Featuring Isabelle Ferreira, you cannot stop but drool over this pierced tranny queen. What attracted me to her were her pierced nipples. They were amazing to look at, and I was left wondering, if the banner showed a kinky slut like this, what's in store for me when I subscribe?
The latest videos exclusive to BigBootyTGirls are placed under the banner, in the form of a grid. You'll find only a handful of them on the homepage, but to find out more, you can click on the exclusive videos tab. You'll be taken to a new page where you can explore more about them. A list of trannies is presented alongside the grid, to the right, with star ratings. You can explore more of them in the TS Models section. Finally, there are videos to explore from the network, which you'll find below the grid.
Actresses & Video Quality
Experiencing a tranny is a great thing, for it is not so common that you get to see them, leave alone fuck them. They are rare commodities, and in the porn world, they get noticed and are appreciated for their outstanding looks, beauty and awesome performances. BigBootyTGirls needs to be commended for the outstanding efforts they have put in to find the sexiest trannies from the world over. So, you'll find sluts from Columbia and Brazil, while there are others from Asia and Africa too. All videos come to you at full HD resolution. Allowing you to clearly view every simple and minute detail of the place where the slut is getting fucked. You can watch the ridges of the nipples and areolas, the silky smoothness of the sluts' skin, while the rock-hard cocks can drive you crazy. Watching the tight assholes being pounded hard is awesome, giving you the most exquisite jerk-off sessions in your entire life.
A bevy of the sexiest trannies grace BigBootyTGirls, and you will want to have sex with these trannies for real. Sluts like Jonelle Brooks, Lexi Beth, Jessie Ramirez, Naomi Chi and many more. Watching them naked will get your cock to salute them in full glory in a matter of seconds. The awesome breasts love to be fondled, while the exquisite nipples are waiting to be sucked, tweaked, pinched and twisted. The bootylicious asses are waiting to be spanked hard till they turn red, while the tight assholes are desperate to be invaded hard, after being lubricated with your saliva and KY Gel to allow your cock to slide in without much effort. Their cocks are amazing, which they use effectively to fuck trannies, girls and guys alike.
In Few Words
A great porn site like BigBootyTGirls truly deserves your attention, and it is worth subscribing to it. The trannies know exactly what will make you cum hard, for they are lovers of hardcore anal sex. This amazing site is very affordable, coming with three separate plans, a recurring one-month plan, a non-recurring one-month plan and a non-recurring quarterly plan. You also get access to all 6 sites in the Trans500 network, in addition to the amazing goodies and chicks this amazing site possesses. So, without much ado, join this site now!
Visit Big Booty TGirls >>