BIGTITSATSCHOOL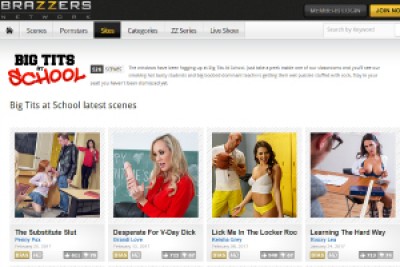 Overview
Getting to fuck your favourite teacher has always been a million-dollar question that many haven't able to answer. Why? That's because you can only fantasize but never get the opportunity to fuck her. Either you fantasise about fucking your teacher or you resort to porn. Fantasising this scene is generally difficult, but resorting to porn is always the easier thing to do.
And there are many sites that offer you such porn, a kind of taboo sex involving horny teachers and slutty students. After having reviewed so many such sites, I found BigTitsAtSchool to be the hottest one. This site is very appealing from various perspectives, including its design and features and the girls and videos. I liked the girls and videos very much, because there was a lot of genuineness in the performance. The natural effervescence with which the chicks approach each performance is endearing, and you will get emotionally attached to the slut. When she moans to a large dick in her pussy, she means it and you will feel like ramming your dick harder into her. Your hands will fly rigorously over your dick, till you cum hard.
If you are already thinking of jerking off, then hold it for another half-an-hour. Read this review we have provided before subscribing to this site and jerking off to glory. The review has two parts, Design and Features being the former and Girls and Videos being the latter part. We will start with the Design and Features, before going to the most interesting part of the review, the sluts and bitches of the site.
Site Content
What makes this site so good is that its colour scheme is very beautiful and subtle. The site has used a combination of classy colours, such as grey, white, red and black. The site can be divided into the header section, a tab section, a central section and the two black portions on the sides, with a velvety fabric like feel on the top and jet black at the bottom. At the top of the site, there is the Brazzers banner. Oh yeah, if you are wondering who owns this site, this is it. BigTitsAtSchool is a partner site of Brazzers, and signing up to this site will give you access to more than 30 sites in the Brazzers network, with 1000+ stars and 4000+ videos. This is unmatched, and you can sit back and enjoy hours of porn videos at the end of your hectic day.
Talking about Brazzers, you should know that BigTitsAtSchool was a standalone site until a few months' ago, but today, BigTitsAtSchool has stopped taking new memberships. All new members now need to subscribe to Brazzers. And we have already presented the advantages of subscribing to Brazzers in the previous paragraph. The tabs are common to all sites and you will find scenes, pornstars, categories, sites, ZZ series and live shows. There are 526 videos in BigTitsAtSchool at the time of writing this review, but I am sure that this number will only increase over time.
The videos are arranged in an array format, with 24 videos in a page. So, for 526 videos, there are 22 such pages. The videos have a sexy thumbnail, a title and the pornstar featured in this video. On clicking the thumbnail, you are taken to a new page featuring the video and its details. This page gives a brief description of the site, the number of likes and dislikes, its duration, the details of the pornstars featured, the tags for this site, the formats in which the video is available, some top-rated videos and upcoming videos. There are 1500+ porn pictures, in full HD for your viewing pleasure. The videos are available in 1080p and 720p full HD or in standard definition formats.
Given that this site is a partner site of the Brazzers Network, you may be wondering that this is an extremely costly website. But wait, don't jump into any conclusion, for this is a very affordable site. Imagine, you get 30 sites for the cost of one. And at a price that is so affordable that you will not be able realize that you have paid for this site. The site gives you flexibility for choosing your subscription plans. From one-month, three-month to annual membership options, you are sure to enjoy your evenings and nights with your hands in your pants. If you are satisfied with the features of this site, you should now read the most interesting part of the review, the Girls and Videos.
Actresses & Video Quality
The best thing about BigTitsAtSchool are the pornstars, both guys and girls. But the girls, they are out-of-this-world. What's so special about them? It is their breasts and perky nipples. No wonder, when you see these sluts, you will find how voluptuous their busts are. And the cleavage that is visible, oh, there are no words to describe it. Men love cleavages, for it is the gateway to fondling and groping a cunt's breasts and nipples. Men love to bury their faces deep into the cleavages, kiss the breasts and suck the nipples. This is what you will find the guys doing in the videos on this site. Sucking and playing with boobs and nipples are only a few things that the guys do. But what about fucking these cunts?
To know more about these sluts, you should click on the pornstars tab. All pornstars model for Brazzers and you will find them in all the sites under this banner. 1600+ chicks and 300+ hunks are the people you require to befriend on this site. You can search for the sluts, videos and anything else on this site, using the search tool. You can filter the sluts by ethnicity, first name, recent activity, most viewed, number of scenes, ZZ Rank, or even by letter. Each pornstar has a page dedicated to him or her. From body type, hair type, body art, ass type, pussy type, tits type, height, weight, date of birth, place of birth, you will find various personal details of the pornstars. The vital stats of the pornstar is something you will love. Go to subscribe now, then read the conclusion.
In Few Words
You have probably realized by now that this site has everything you would need for a great jerk-off experience. You can rely only on this site for the rest of your life, because of the high-quality porn available. As mentioned earlier, the site is among the most affordable ones you can come across, and is true value for money. You will not realize that you have been paying for this site. All you need to do is to sit back and enjoy the porn that this site gives you.
Visit BigTitsAtSchool >>
---
Need to clear further doubts?
Have a look at some other BIGTITSATSCHOOL tips on some other great porn review sites!
---