BLACKFEETBOOTYSTREET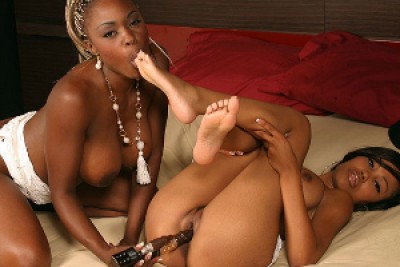 Overview
If you have been lucky enough to taste the sweetness of black pussy or held an ebony ass in your hands, then you know why it is the best thing on the planet. The sweetness of the nectar that emerges from these private parts is well worth your time. Through the all-lesbian adult site BlackFeetBootyStreet, you will find it easy to spread the goodness of all that comes with ebony sex. I know what you are thinking… that you will be treated to hours of toy fucking ventures but the truth is that this site is all about doing sexy things with the feet. However, this is not your random adult site, apart from enjoying the hottest porn action, you will equally get to watch the most incredible foot fetish scenarios. Indulge yourself in the long legs that do not quit, doing all sorts of naughty and unacceptable things. To add on this, there will be mountains of breasts for you to uncover and pillows of chocolate colored butt cheeks to help you fulfill your deepest and darkest fantasies.
The dripping ebony pussies will destruct you but at the same time, they will help you be steadfast on your quest for pleasure. If you are in the mood for some feeling around, read on, this site is absolutely perfect for you. The action simply starts with some teasing before all of the foot kinkiness goes down. It doesn't matter if you enjoy the long legs in stockings, sexy lingerie or as bare as they are, you will find good cause to enjoy all that the platform has to offer. The action is hardcore and puts special emphasis on the feet.
BlackFeetBootyStreet comprises of all the elements that make a porn site complete. First of all, the site has exclusive content. This means that you will not be able to randomly enjoy the content on this platform. You will only be treated to the sexy scenes when you sign up as a full member of this platform. All of the flicks are of good quality. Therefore, you only get to enjoy them in the best high definition videos. Members get to enjoy lots of bonus content such as access to 5000 extra porn DVDs. Even if this site stopped uploading its collection today, there will still be more than enough to keep all members afloat.
Site Content
BlackFeetBootyStreet is not a site that has a lot of content. In fact, there are only 4 videos and 12 sets of pictures, therefore, it is quite easy to navigate and get around. All of the flicks have good quality playback and come in formats that you can stream or download, depending on your preference. Even mobile users will get to enjoy all that the collection has to offer. A few of the videos are also in WMV format, therefore, there is flexibility in the level to which you can access the flicks in the collection. All of the preview videos feature horny lesbians sucking toes and displaying their butts for you to see. The videos are sub-divided into short episodes and they are also accompanied by images from the galleries. There are lengthy descriptions that are with all of the scenes. The catchy titles also showcase what all of the flicks really have to offer. Members can take part in rating the flicks.
Actresses & Video Quality
These may just be the prettiest lesbians that you have ever seen on any ebony adult platform. Just by looking at them, you can easily fell that they are classy hotties, who love getting kinky in a stylish way. All of the action takes place in the bedroom when they can be free and truly explore what all of their bodies have to offer. They wear only the most expensive weaves and braids which of course tell you that they put a lot of effort into making themselves more appealing for the camera. It is evident that the women have unspoken chemistry. Unlike other sites that may only offer acting scenes, BlackFeetBootyStreet is as real as it gets.
The women kick off the lesbian's ventures first by doing a lot of pussy teasing and later on, the action progresses to foot action. The feet are used to tickle their clits and to press their boobs against their chest. As much as this is an ebony site, you will also get to see a few Latina chicks making a play for your attention. They are as crazy for ebony pussy as much as you are and these end up being the hottest interracial scenes. I wouldn't forget the sexy costumes that they wear. They will absolutely drive you in sane with desire. You will want to kiss every inch of their skins because it is almost as if they had been swimming in chocolate milk. At times, they steal a glance or two friends your direction, lifting you know that they are aware of your presence. Even as they thrust sex toys deep inside their punanis, they still latch on the toe, massaging it, caressing it and loving it with utmost dedication.
In Few Words
The lesbians on BlackFeetBootyStreet are surely a draw. They know what getting pleasure should be all about and they do it in a variety of ways. All of the flicks will keep you glued to the screen. The foot fetish action is going on top of this delicious site. This site comes highly recommended because it will meet you at your point of pleasure and desire. You will absolutely fall hopelessly in love with everything about it.
This site doesn't exist anymore, check out our best black porn sites collection for similar content.