BLACKGFS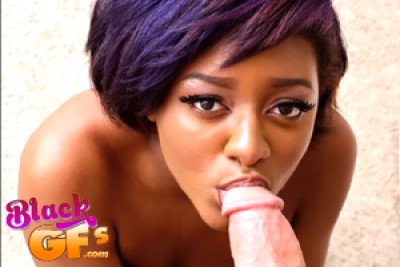 Overview
The action on the site covers almost all the sexual activities humans have thought of and have now filmed on amazing private home porn. Private until now, that is. Once the girls and boys saw how hot the movies were, they just had to send them out into the world for us all to enjoy. If you enjoy girl-on-girl action, sometimes one-on-one and sometimes a lesbian orgy, and girl-boy action or solo sex by cute chicks, then you'll enjoy BlackGFs. Or what about, blowjobs and handjobs, facials and creampies? There's plenty of that here. And if you're like me and love nude selfies, you're in for a treat on this site because they have them by the score. For lovers of ebony goddesses, this is a site to scope out.
Site Content
BlackGFs isn't part of a network but you can get access to one at sign up where you can add the 'Realitykingsreels', with girls from networks like MOFOs and Brazzers, for an additional $1/day. Realitykingsreels gives you access to hundreds more hot chicks, though not for the most part ebony ones. Adding that to the many amateur Black GFs you'll have at your command on your screen has to be one of the best mixes you'll find anywhere on the web today.
Black GFs is a responsible adults-only content provider. First they have a warning landing page that outlines clearly they are an adults-only site and also the various steps they take to prevent inappropriately aged visitors from accessing their explicit content, such as labeling their site with services like RTALabel, Safelabeling and Safesurf. As well, their site works with Internet Explorer's built in free filtering tool. They also provide a link to a free filtering tool bar to add to parents' ability to block people seeing something they shouldn't. To be in compliance with U.S.C. 2257 Record Keeping Requirements Statement, Black GFs keeps records of the age of their models. They must be, and they are, adults at the time they're filmed and photographed. Black GFs keeps your data secret as well and their Privacy Policy provides information on the steps they take to ensure your personal details are safe with them.
Actresses & Video Quality
If there's anything the Black GFs' girls lack in professionalism, they more than makeup for it in energy and enthusiasm. From frisky fresh chicks to tasty twenty-something, in all sizes and shapes, from golden brown to darkest ebony, from naturally bushy to shaved bare, and with all kinds of burning desires, the Black GFs have an inventiveness that will get your equipment throbbing. Black GFs are insatiable and like to scratch their itch wherever they are, on a bus, in a car, at the poolside, in the locker room, in the laundry room or living room, in public or in private, at the car wash (where they wash your windshield using their butt cheeks), on the street or in the park, whenever the feeling takes them, they like to be taken. Perhaps more than anything it's their booties that set black chicks apart from the other gorgeous girls of the globe. The hotties on BlackGFs are no different.
If big booties turn you one then this is a site to explore deeply, lovingly taking in each crack and snatch. There are lots of opportunities to do just that, as the girls love to display their bums and attendant holes for your hungry gaze. When you've got it, you've got to flaunt it because it won't always be there to enjoy. Pubic hair seems to grow strongly on black pussy, wiry, shiny, glistening with dampness, hoping for fulfillment, and our ebony goddesses like to keep it luxuriantly thick for their men. That burst of pink when she spreads her hair and pussy lips are all the more arousing because of its bushy screen. Although most of the movies are about straight sex, it's those boyfriends leaking the private movies again, I guess (though some might be just so damn proud of their girls they can't wait to show the world the bounty they've collared), some of the movies are lesbian sex too (maybe grouchy girlfriends are as sneaky as embittered boyfriends), some others have bisexual scenes (all those wild student parties we hear about), but one thing they all share is a desire to give the moment all they have to give. If you want to be there at that moment with them, give BlackGFs a trial. You know you want to!
In Few Words
Pricing varies depending on time. For instance, Black GFs has a 2-day limited trial for only $4.95; however, you must pay by credit card for that quickie. For more time and to pay by check you have to take at least a monthly subscription, which is $29.95. Then there's a three-month membership for $49.95 and the yearly subscription at $95.40. Apart from the two-day trial, every one of the others provides full access to BlackGFs full library of HD movies and high-resolution images. Registration can be online.
As mentioned, for one month and above memberships you have the option of paying by personal check as well as credit/debit cards (Visa, Visa Debit, Visa Electron, Carte Bleue, MasterCard, MasterCard Debit, Discover and JCB). BlackGFs payment is through a secure, encrypted billing agency so there'll be no embarrassment if someone sees your statement. The site also has language options for signing up as well, German, Spanish, French, Dutch, and Portuguese are all supported at BlackGFs and they have a Customer Helpline, if you need one. One last benefit is you get to enjoy the girls when you're on the move because they have a mobile access as well. All these choices and ebony goddesses too, don't delay, sign up today!
This site has been closed, have a look at our best black porn sites selection.