BURNINGANGEL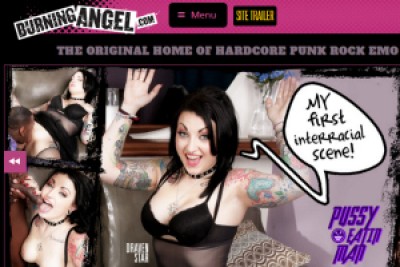 Overview
Burning Angel is an adult entertainment site that features pretty women with a taste for the rock, goth and punk fetishes. It is a unique combination of rare habits blended with sex escapades. If you are turned on by wild looking girls that breathe sex fire in raunchy stunts, you have something to try out on Burning Angel.
Site Content
I loved the choice of black, dark grey and purple as the dominant background hues on Burning Angel. It blends in well with the type of action that ensues. The site is fairly well thought out. There are several tools set up for the user to enjoy their browsing. I was introduced to the categories list that highlights all that I could check out on the site in summary. I also loved the fact that the pages are numbered. It is easy to check out the content you want, mark it and get back to the page you wish. There is a model browsing option and the series alternative.
You are also presented with a sorting feature that allows you to search for your preferred stuff by update, rating, model name and even the popularity of the model you want. Although I didn't see an elaborate search tool, I found it easy to navigate around the site. I could also check out the sleek flicks on my mobile phone. This was a great tweak for me because such entertainment is what keeps my head up when fed up with matters wherever I'm. I could watch the videos, or view the many photos while attending a boring board meeting, or when stuck in city traffic. Streaming is also a great experience for users of the site. The loading speed is impressive.
Actresses & Video Quality
You will love the style of the models featured on Burning Angel. You need to understand the character of uptown girls to savor the full spice of the hotties presented. The rock inclination makes some of them seem a little weird but if you are into the antics of rock and punk stuff , you will always have a great time and more than you anticipated. There are varying sex scenes that feature the hotties in steamy sex action with dudes. There are scenes that also show the girls in masturbation mode. All the scenes are made in HD form.
I stopped to watch one of the gorgeous cuties with a great tattoo on her belly get down with a dude in bareback scene that left me totally wet in my crotch. The girl is a tall blonde that is endowed with a beautiful body that lots of admirers will turn heads just so that they get a clearer view. The girl squats to have a taste of the penis of her man. She grabs the dude's dick and balls and begins to render a soft slow caressing. Soon, the boy begins to heave and groan with pleasure. The blonde seems to have had it all in her mouth when she gets the dudes cock down her throat. The girl makes the dude cum involuntarily. He splashes lots of cum around the place in a ranting orgasmic frenzy. There are over 88 videos including the DVDs. Each of the flicks plays for a whopping 1.5 hours. The files are made in MP4, WMV ND Flash Player formats. There is a whopping 2150 galleries with 75 pics in each.
In Few Words
Burning Angel is a great site that features models with a unique entertainment style. I love the way they stick to the theme. Burning Angel might not be for general porn freaks but if you know something about rock, punk and goth, it is a great site to check out.
Visit Burning Angel >>