CHATURBATE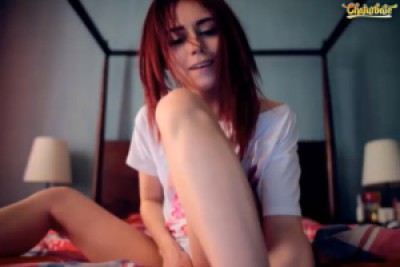 Overview
If you have a wish to see some variety in your life, to find some people to chat to, maybe get that inner horny spirit out, then do not wait, go to a site called Chaturbate, which is a combination of the words chat and masturbate, and already you get the idea of what is waiting for you. This site has some of the sexiest people out there, couple, males, females, trannies, everyone broadcasting themselves for you, with HD cams and normal cams, pleasure waiting to be taken.
Site Content
Now, this site, although it is a streaming site, it has quite the design, one that you can utilize to the best of your abilities, that means, it is really simple to use. But, being simple does not make it unaesthetic, quite the opposite, as in this case, you have a very good looking design, one that you can enjoy, especially because it is so easy to use. It has a simple logo up top, and below it, in blue, you can find the menu bar, with white buttons, and of course, an orange one for signing up. You do not even have to pay to join this site. Below are the many girls, guys, trannies, couples, everyone that you might want to see while they are performing for you. Live chat is an option here, and you can find the people easily, due to good sorting, different categories and a search bar, too.
Actresses & Video Quality
But, a site is as good as its content, and not just its design, so this one stands to prove that correct, and it does so very nicely. The site's menu is quite easy to use, and therefore, finding the content is no trouble at all. Once you get there, you can see a lot of live shows, as many people tend to be online at the same time, which proves to be a great thing, as you can always find a person to chat to and to masturbate to. There are the girls, soft and yummy, with their hot bodies, perfect boobs and all, but, seeing how this is an amateur site, you can expect to see all kinds of girls, actually, from really good looking ones, to the chubby ones. The males are the same, some are average looking, others are fit, and there are the chubby ones, too. The same goes for the trannies, nobody is as perfect as a picture here, they are just normal people who love broadcasting themselves here. You can do the same, if you like, as there is the option to do just that. You do need a web camera, though, and everything can start. Speaking of cameras, the image quality can be HD, or more, depending on the camera that the people use, so you can find a variety of resolutions, too.
In Few Words
This site is a paradise for those who want to explore real, live action, action which is not played out, or faked out. Chaturbate is a site where live shows are the real deal, with many different categories to choose from, with trannies, girls and guys at your disposal, and even you, the viewer, can broadcast yourself, to the pleasure of the other broadcasters and viewers. This is a site that just keeps on giving.
Visit Chaturbate >>