CLUBKATIESUMMERS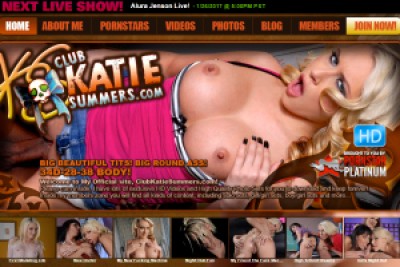 Overview
Katie Summers is a girl with special talents that show off in her recent videos. Her website ClubKatieSummers is a temple to the all things sex related. She loves everything that can be put in her mouth with ease and also in her butt. There is a lot of content to discover here.
Site Content
ClubKatieSummers has a website design efficient on any portable device. It has a black towards red background that covers the entire website and its features. The feature has the following options; models, videos, pictures and about me. All the options include sorting buttons that facilitate finding the good videos. Every video on display is filmed in 1080p full HD and offers a decent amount of information about everything that is happening in the video.
Most of the content can be streamed and downloaded on any mobile device, that includes smart phones and tablets. Members have a special login in screen at the start of the website tour, here members access all the content produced recently and get experience the live shows that are organized a few times per year. A membership plan covers the basic features of one day, one week and one-month offers. All the content is accessible throughout the main website and other similar network websites that include hundreds of similar female adult industry stars.
Actresses & Video Quality
We have another excellent blonde for the viewers at the office or at home. Katie is exceptional and her life story makes for a great story. She has amazing appetite for big black cocks, while another dude rammed her down in the asshole. Katie Summers has some strong points of view about how much sex she can have in any time at any place. Her pussy is opened for anyone who likes to enjoy some wet parts of it, while also making her mouth ready for blowing.
Her videos where officially put on her exclusive website back in 2012 and presented her famous video of the parody of super heroes. She likes to dress up like all kinds of evil girls that enjoy cock. Every viewer that accessed her videos is treated to exclusive content of her soloing herself into ultimate pleasure, while other videos present her doing some incredible hardcore scenes with other famous porn stars.
As a true Texan, she never gives up from the constant struggle of making unbelievable good porn. Check all the videos in which she makes all kind of nice noise from the discomfort she experiences and out of the pleasure she had taking a dick up her ass and pussy. There is a lot of content to enjoy here for a life time and Summers is a crowned head of hardcore sex in her online realm of pleasure and satisfaction. Enjoy famous videos of her, because it's worth every minute of it.
In Few Words
I could add a lot more about her style and good looks, but it's best to check out her website at ClubKatieSummers. Her incredible talents offer more than a bargain for anyone who likes videos of blondes getting fucked hardcore. Join her huge fan community and access the latest of them.
Visit Club Katie Summers >>