CRAZYXXX3DWORLD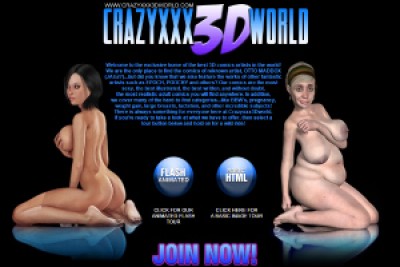 Overview
CrazyXxx3DWorld is a creative porn content site that features comic 3D models in various titillation sex actions. The site presents numerous stories of sex encounters between the comic figures. You will love the fact that they throw in some actual sex scenes that feature real humans. The models are aggressive, stylish and daring. Several alien sessions will make you gasp for breath as the creatures drill their monster tools into the deep of the comic models that look more like real humans.
Site Content
CrazyXxx3DWorld is draped in beautiful mystic black hue that stirs a feeling of a movie theater experience. There are conspicuous efforts to make the site as user friendly as it can get. I was invited to take a trailer tour of the content on the site. The slide shows feature images of the carefully created comic figures in steamy sex encounters with dudes. There are other ways to get around too. I was also given the option of clicking on the tagged captions splashed across the home page to get to the actual movie scenes. The site provides lots of background information about the sex encounters that ensue between the 3D comic figures. I loved their storylines too. You also have a list of categories to choose from. Indeed, navigation is greatly aided by the availability of these options; despite the lack of an elaborate search tool on the site. You are allowed to stream your videos directly from the site. The embedded Flash Player is versatile and effective as you can skip to your desired scenes without a glitch. I could also sample the videos via my mobile phone. This was great for me; as a break from the comic 3D presentation. Some action in the real world added some spice to the whole experience. I visited Vintage Toons, Top 3D sites, Hentai Top 100, Wank Game, Adult Toon Tube , Top Erotic Art , Nude Drawer, Free cartoons and more.
Actresses & Video Quality
There is an impressive plot in most of the stories presented on CrazyXxx3DWorld. The girls, as I mentioned, are hotly made. They come in curvaceous figures and sexy hot boobs and bums that make you drool and want to touch before you realize that they are actually works of imagination. I loved the scenes in which the girls romance and hook up in steamy sex sessions that captures them sucking each other's nips and clits with relish. The girls are portrayed in various sex acts as they also spread out for the comic 3D dudes to service their pussies. Some girls are captured by aliens and taken to remote places only to be drilled with unusually long cocks that look mechanical. I, particularly, loved the scene in which Marcella takes up the challenge to enhance Allen's cock. It is supposed to be help that is extended to her friend Doris. However, Marcella decides to give the newly enlarged cock a test drive; and, boy! Don't they like it! You have over 946 videos to savor on the site. Each of the flicks plays for an average of 1 minute. The files are made in WMV and Flash Player formats. You also have a similar number of galleries that feature 60 pics per set.
In Few Words
CrazyXxx3DWorld is a comic graphics porn site that provides users with a range of creative porn scenes in 3D. There are many different sex acts performed by nicely created beautiful Models. You will love the stretches of imagination as the girls engage with aliens too.
Visit CrazyXXX3DWorld >>