CZECHAMATEURS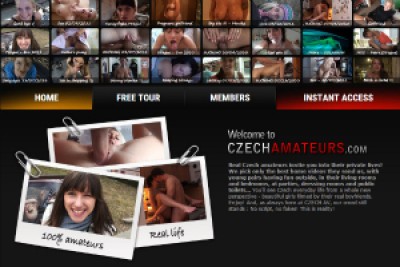 Overview
All countries claim that their girls are the most beautiful on the world. If you ask an American, he will said, the US cunts are the best, but if you ask him to name another favorite, many men will say that Czech chicks are also awesome. Czech Amateurs brings you the best Czech homemade porn movies, where real-life couples are living their everyday lives and do their sex action. On Czech Amateurs you can peek into the lives of Czech couples, and they may not be professionals, but they are really good at acting like there is no camera in the vicinity. The chicks are beautiful and various: you can find here cute skinny beauties as well as some crummier girls. Don't believe that marriage is always boring; there are lots of married chicks enjoying some hot love with their hubby. The videos are rather long, since they're acting like normal people, do their tasks, tease each other, and when the time is right, they get to the action.
The people in the scenes are talking in Czech, but there are English subtitles to help you out. Czech Amateurs membership will also give you access to a whole network, featuring Czech chicks and dudes enjoying some sex. The Czech Authentic Videos network consists of 28 sites, each providing quality content in a wide range of porn niches. If you like reality shows, you will like the ideas at some sites of the Czech AV. Apart from normal porn events (couples, swinger clubs) you will find a bunch of sites that will fulfill your hidden desires: saunas, toilets, pools, changing cabins and more. Most movies are taken from a fixed point, and these bastards even put cameras into a toilet! The unsuspecting chicks are not just gorgeous, but they have no idea that they are being watched while trying a new bra or skirt.
Site Content
The Czech Amateurs had a simplified tour site. You get a few options, but he only thing you can do is to browse the teaser thumbnails. However it's enough to make you want to become a member. The site has a modern design with a black and red color theme. As you can see on the pictures the scenes are shot quite good quality. The videos are captured in the best quality possible, most of them are rather good HD shots. You can view all content in the embedded Flash-player, streamed in MP4 format. There are several download options available, for the best 720p HD videos go with the Windows Media format, and there are no limitations in download. Both the streaming and the download speed are stable and fast. The scenes are pretty long, most are over 30 minutes, and you get to know the couple before they get right into the action. All scenes are cut, but you still get a full movie with beginning and ending, and a real life in it. These couples are shopping, cooking; they do normal stuff in their normal life. You can even watch a chick ironing, and leaving the stuff there to ride his man.
Actresses & Video Quality
Czech Amateurs has a very nice collection of exciting videos. In one of the raunchiest videos, a fresh stud firmly holds a juicy ass of a lovely brunette girl and start licking her asshole deep inside. And as you might have imagined she start feeling the pleasure of ass licking and can't wait to be banged by the fat cock in her teased ass. Watch the full video to see her getting slammed by gigantic cock in doggy style and be ready to have some amazing porn experience. Where else would you find watch such amazing girls with perfect body and desire to fuck like crazy.
These chicks are open minded and don't hide any of their secrets with you love to have double penetration, fuck with a stranger, threesome with a girl and a big dick, licking balls or taking a huge cock for a perfect blowjob. They do it all in front of the camera for your viewing enjoyment. They always feel horny and really enthusiastic about having sex in variety of locations and various positions. Although they are amateurs but perform like professional pornstar in the videos and this makes a perfect combination of a hardcore porn to make you hard. With hundreds of real life horny sluts and dudes fucking and sucking in every possible position of location, there is no wonder that Czech Amateurs is one of the best amateur porn sites on the web and whatever makes you hot, will be found here for sure. So, don't wait and let the sex journey with these natural chicks begin!
In Few Words
On Czech Amateurs you will see some stunning performances by hot European women that squirt so much and spray her juice all over places. And if you want to know more about these hot chicks, you need to enter into their world through membership at Czech Amateurs. SO, what are you waiting for? These girls are really feeling horny and not going to wait only for you. These are sexy sluts who immediately need a big dick in their ass and like to play with stud with big cock like you. Would you not like to spank those tight asses and given them the best fuck they desire?
Visit CzechAmateurs >>