CZECHAV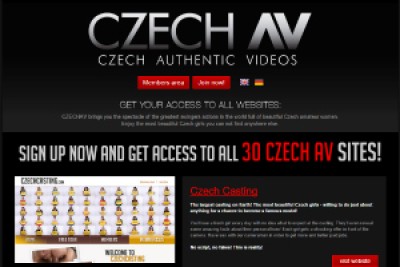 Overview
Czech women are so beautiful and what could be better than seeing an entire collection with these wild girls? On Czech AV, one of the biggest porn networks on the internet, you can watch some high-quality adult movies with real Czech girls or with splendid amateurs. All clips are exclusive and 100% authentic. Czech AV is a network, which will let you access, with only 1 pass, all the sites that they have. There are 28 and they are full with maybe the sexiest and wild chicks you have ever seen! These East European women love to make hardcore sex on the camera and they have absolutely no inhibitions. On one of the greatest sites from the network, Czech Casting, you can enjoy some amazing sex scenes. Chicks are coming to a casting and, in order to get better jobs with higher salaries they start fucking with the cameraman. The lucky dude has sex with fresh or with mature women, and the prospect of earning more money makes the girls to become real sluts. They suck and they make hard normal and anal sex, in some very good quality scenes.
With no censorship and no scripts, on the website Czech Streets, the crew gives money to Czech girls from the street for a quick fuck. These beauties need money to pay for their rents and they agree to have sex in all kind of public places. Czech Couples is another site dedicated to sexy girls. This time the crew, with 1 girl and 1 man, offers money to some fresh couples, so that they will make sex while being filmed. All of them agree and you can watch some fantastic foursome fuck, again in public places! If you want to know how a real party should look like, then you will be thrilled with Czech Home Orgy. Hundreds of fresh beautiful girls and men take part in some huge and wild parties. After the bottles are empty everybody gets naked and the fun can start. People are fucking with each other's, even if they just meet. Anal sex, double penetration, lesbian scenes and a lot more can be seen on this site form the network.
If you ever dream of having sex with a lot of beauties in the same time, then you will surely enjoy Czech Harem. This site is all about a lucky guy that has a personal harem. In some movies he fucks, in a great reverse gang bang, with 50 fresh girls in the same time. So many pussies and asses, but this man is living the dream! If you want homemade porn, then Czech Amateurs is perfect for you. Fresh Czech couples are filming themselves while having hardcore sex and then they upload the movies on the site; some really amazing scenes there, which you don't want to miss! These are just part of what Czech AV has to offer. If you want to see all the sites, then you only have to become a member on Czech AV!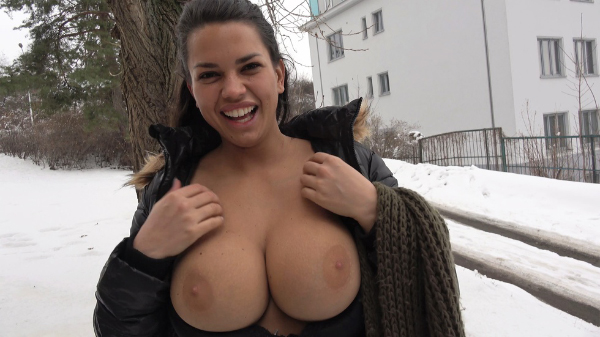 Site Content
The Czech AV has a very nice design, presenting on the first page all the sites from the network. This way, you can get a taste of what you will be able to watch after you become a member. The movies have a very good quality and you can download them all, with high speed, if you have enough space on your computer. A lot of people are looking these days for porn movies with East European women, like Czech girls. The biggest advantage of Czech AV is the huge network that they have, and the great quality of the adult content.
Actresses & Video Quality
The chicks from Czech AV network are absolutely perfect. You can watch fresh chicks with slim bodies and perky tits having hard sex in public places, or sexy MILFs with big and round asses and huge breasts, looking for studs, while their husbands are not at home. Some of the chicks are blondes and other brunettes, but they have one thing in common: they enjoy a good fuck! These Czech girls have no inhibitions and they have no problem at all to have sex in parks, busses or in any other public places. They are real girls or amateur beauties, which like so much to be taped while sucking a big cock, like yours! On maybe the most fantastic porn movie ever produced, which you can find only on Czech AV, a guy is having sex with almost 40 women in the same time.
The chicks have different shapes and sizes, but all of them look amazing. They all get naked and they start taking turns in sucking the guy's cock. After all of them get a taste, this lucky dude, starts fucking the Czech women. After some nice pussy fucking, some girls want anal so the man starts pounding their asses. This incredible scene ends with all the girls lying on the floor, and the guy cumming all over their pretty faces! This clip is a masterpiece of exciting porn! In another hot clip, a guy picks-up a beauty on the streets. The woman is in need for some money to pay her rent so she agrees to suck the man's cock in a park. She is a fresh girl, with black hair, long and sexy legs and some big and juicy tits. She is shy at first, but after some time sucking in front of the camera she becomes wet and she agrees to be fucked. A lot more scenes like those can be seen after you become a member on Czech AV!
In Few Words
Considering the great content you can find on this site, joining Czech AV is a must if you want to have exciting fun, watching quality porn!
This site doesn't exist anymore, find similar content on our best porn networks collection.