CZECHCABINS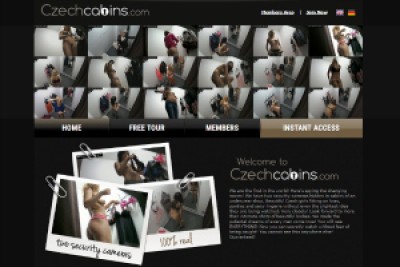 Overview
If you've ever dreamed of peeking behind the curtain of a girls' changing room, you'll love Czech Cabins. Hidden cameras allow you to get close up and personal with beautiful Czech women as they dress and undress in a clothes store cubicle without a clue that they're being filmed. This site is the ultimate voyeur experience and I'm pretty sure is every guy's secret desire at one time or another.
Site Content
The design of the site is simple and straightforward, with clear screenshots of the girls on display in each video. There are no photo sets available, but that means you get what you paid for, fly-on-the-wall videos, and plenty of them. All movies can be resized in the browser, and there is no download limit in the website's members' area. Each video contains additional details, such as a time and date stamp, with the duration of each video also shown.
Occasionally you can also find related videos but the basic content is a host of different girls in the same white changing room trying on different types of sexy lingerie. The best thing for me about Czech Cabins is that the hidden cameras aren't just standard CCTV cameras with shoddy quality; these are high-definition cameras that make for good-looking videos. In fact, the quality of the cameras is so good that you can even hear people talking in other parts of the store.
Actresses & Video Quality
The girls on the site are obviously all Czech, so if you like white European girls, this is definitely the right lingerie store for you. Whether they really are random girls from the street with no idea that they're being watched, or amateur models posing discreetly for the cameras, the appearance of the videos is definitely one of a fly-on-the-wall situation. The girls, despite their European nationality, come in such a variety of shapes and sizes that there really is something to satisfy a wide range of desires.
There are blondes and brunettes, buxom girls and long-legged chicks, shaved pussies and shapely stomachs, in fact, the one thing throughout all the videos I've seen on the site is that Czech girls definitely seem to take care of their bodies. Or perhaps this suggests that the clips chosen are either staged or chosen specifically for maximum entertainment. Either way, it doesn't really matter whether the girls are innocent or posing for the cameras, the videos seem genuine enough. There's not a lot of variation in the videos on show. The girls enter the changing room, change into their chosen lingerie wear, change back into their normal clothes and leave, which means the videos have an average run time of between 5 and 10 minutes.
Each clip has the option to download an HD version in WAV format, as well as a lower-definition mp4 version, and there's the added bonus of being able to stream the videos too. It works well, with good playback and buffering, unlike some sites where you can't jump forward in the video without a frustrating delay while the stream catches up. The downloaded WAV files are all around 150MB, with the mp4s at an average of 50MB. And there are around 150 videos to choose from, so you're bound to find someone to your liking.
In Few Words
Czech Cabins is a simple design of a website without too much in the way of variation, but it offers good quality, downloadable and streamable videos, with the option of large HD files or more manageable, lighter ones. There are plenty of video clips to choose from and, in my humble opinion at least, all of the girls have great, slim figures. Membership gives access to the company's catalog of web sites so, if you're looking for Czechoslovakian hotties, look no further.
Visit Czech Cabins >>