CZECHCOUPLES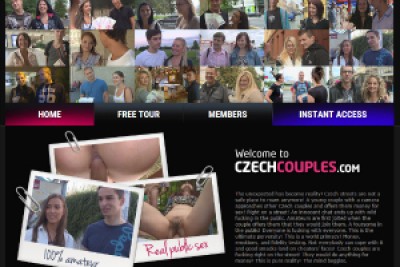 Overview
What wouldn't humans do for money? From the beginning of time, this means of exchange in whatever form has driven mankind to do some of the craziest acts unimaginable. CzechCouples takes this perversity one notch higher by proving that all human emotions are ultimately guided by what they'll get from the action, materially. Hardcore fucking on the streets right there in the open with passersby looking the other way is something one thought could never ever happen in this present world, but with such daring exploits exposed on this amazing website, you might need to readjust your thinking.
Sex in the open, exclusively for the money involved is real; get over it! And to think that these are not professional porn stars or movie actors; these are the regular Jones's and Joana's that we have as neighbors; these are normal tie wearing, skirt cladding office dudes and girls that parade our business centres, that we see in malls, or at the games, looking all nice and sharp. To think they would descend so low just for a few bucks is rather unbelievable. Thanks to CzechCouples, anyway, now we can see raw, amateur fucking right in the open; no special lights, no special sounds, no professional directing, or all that stuff done on movies sets; just pure, undiluted fucking of the pussies and cocks; it is indeed unbelievable. CzechCouples boasts of a large archive of spontaneous street sex occasioned by the money involved.
All these regular couples are simply accosted on the street, offered some money to dare them, and, like lightening, they just bolt into action, stripping right there in public and fucking each other in all styles conceivable. These people have sure given porn stars and movie actors a run for their money, considering how well they get down to business, caressing amazingly beautiful bodies, sucking giant cocks, thrusting in and out of wet, juicy pussies, or banging hard at tight, pretty assholes. It is a site to behold. The raw content is just exhilarating! For just a little amount which is about equivalent to the price of a hot dog, you can gain instant access to this wonderful site and see for yourself, all the unbelievable sex shows that couples engage in right on the street. Membership at CzechCouples also grants you unrestricted access to as many as 30 other great porn sites, free of charge. That's right; you can watch so many amazing videos, download as many movies as you want into your personal backup and watch later, for free!
At CzechCouples, everything is done to satisfy the customer. That is why the site has been created with state-of-the-art technology to ensure that even if you don't have a PC or do not desire to sit at one, you can also watch all these exclusive pubic sex videos on the move right on your mobile device. You can also download all you want via this channel, irrespective of the browser you are using at that moment. For CzechCouples, the best fucking experience is not from porn stars or movie actors; spontaneous street sex in the public is the ultimate way to watch human beings go one step higher into the world of crazy sex actions.
Site Content
Everything you need to see happening in public sex action movies are found here on CzechCouples. The site has been meticulously designed to give users 100% satisfaction anytime they view it. Getting access into this site is quite simple. All that is required is a simple registration, a quick subscription on a safe and secure platform, and you are on. This gives the user full access to all the portions of the website, unhindered. New comers are also teased with a large dose of free tours around some of the magnificent videos; none who has been tantalized with these free tours have left unsatisfied; all of them are now loyal customers enjoying the very best of public sex on a single channel. The site is loaded with hundreds of full-length movies shot with the best HD cameras available; the sound is natural, crisp and clear, no artificial sounds, just great moaning and sex talks. And for the website itself, nothing has been spared to make sure it is easily navigable, easy to use, and user-friendly. All the necessary links and navigation buttons are right there on the welcome page, either in English or German.
Actresses & Video Quality
At CzechCouples, it's not just about the beautiful, sexy girls on display; it's about the complimenting efforts of the couples who are enticed by money, giving breathtaking sex shows. These couple are for real. Most are matured married couples, others are excited newlyweds, some are simply friends taking a stroll, yet many are boyfriends and girlfriends taking a walk. Whatever their status, CzechCouples has the best alluring gimmicks to lure them to bang each other right there in the open. Public sex has never been better; the videos show all the scenes from start to finish. It brings to us how they were approached, how they fell for the money talk and agreed to the deal of fucking each other on the street, and how lovely these sex gets in the end. It's a whole package of hardcore anal banging, great pussy fucking, and mind boggling blowjobs, all on the street.
In Few Words
Don't waste any more time; grab your card and get registered now so that you too can join the hugely satisfied fans and customers of CzechCouples to enjoy these great spontaneous sex shows as they happen on the street. It could be your city next; but for now, only the Republic of Czech has the guts to get people naked on the street, and make them bang each other, hardcore style. Amazing!
This site has been closed, find more great Czech porn sites on our best Czech porn sites selection!