CZECHHAREM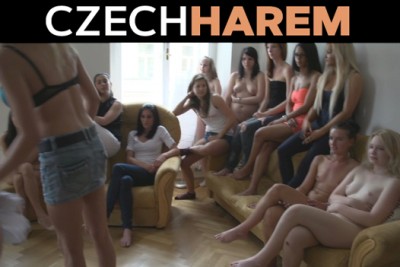 Overview
Every man has a dream. He dreams of his own palace, where fabulous and always wet girls are waiting for him to fuck them all. He has a dream of a harem, where he can pick any one of the girls, to suck and fuck, any time in any way. There are over 3.5 billion men on the face of our planet, and most of them share the same dream, which has been given to some lucky lads by the CzechHarem. The CzechHarem will let you watch some lucky guys having their dream come true. A group of 20 (sometimes even 40) horny chicks are giving them whatever they want, and you won't find any group in the videos to exactly match to each other. The CzechHarem is like a reversed gangbang: it's still all for one, but here you get twenty holes for one pole. Luckily the girls are so horny, that they are playing with each other while they wait for their turn, so this way some lesbian action is guaranteed, and so they are always wet and ready. CzeczHarem is part of the CzechAV network.
Czech Authentic Video is a porn network, which consists of 28 sites, presenting the reality of the Czech sexual habits. The scenes are shot in good quality. Anyone who likes to watch more than one pussy and dick on the screen will find a couple of excellent sites to fulfill their need for group sex. On CzechMegaSwingers you will find Czech swingers in action, fucking and sucking all the way to the top. The CzechHomeOrgy is presenting real home-parties turning into hardcore fuck-fest, where anyone can hook up with anyone. If you like parties then you will love The CzechGardenparty, where you can see a large number of people turning a barbecue into an outside orgy. On the CzechParties one lucky man talks party-girls into sucking his dick and also to let him into their tight pink pussies.
Site Content
The design of the CzechHarem is simple. There is a large montage as a main headline, four buttons and a short description of what the site is about. The site uses a darker color theme, but when you see the first picture showing 20 pussies and 40 boobies you won't care about the colors anymore. The videos are shot in high-quality and the camera handling is good. You can watch all scenes streamed into your browser in MP4 format. The membership will give you unlimited download, so you can save every flick to your computer. For the best quality choose the 720p HD Windows Video format. The scenes are organized, but they're not scripted. You won't see the girls look behind the camera for orders, and the guys can choose the pussy they want and the position they want. All girls are cute and horny; it's just good to look at them, seeing so many cuties at one place can make a man's heart beat faster.
Actresses & Video Quality
Most men don't even dare to dream to make sex with 3 or 4 women in the same time! In CzechHarem those dreams are not important, because a guy is making sex with 20 or even with 40 women in the same time! You cannot even imagine how good that must feel! All the models are amateur women that look fantastic! These girls are doing porn for money, but also because they are curious to take part in such an amazing and unique orgy! All the scenes from CzechHarem are taped with top cameras and they can be seen in High Definition! In one hot scenes you can see a lucky guy that is about to fuck 20 beauties! He has a big erection, just thinking about those pussies! The women are fresh; most of them have come to the filming after their classes were over. They all get naked and you can admire all kinds of tits and pussies. The chicks stand in their knees and the lucky man goes to each of them and is putting his cock into their hot mouths!
After that she starts pounding those fine pussies. He fucks every girl until they cum and then he moves to another one. After fucking all the 20 Czech beauties he starts cumming all over their fresh faces and he makes sure that every woman got to taste his cum! In another amazing scene, a dude will have the honor to fuck with 30 chicks. This time they are fresh, but also some mature beauties. This guy likes anal, so after the chicks deepthroat him for a while, he starts playing with their asses. When they are wet enough the man starts pounding those fine asses! This scene must be one of the best in history of porn! The sluts are yelling and they rub their clits while the man is enjoying their holes. Some of these women start squirting so hard, the excitement was too much for them! When he is ready, all the chicks gather around him and he gives all of them an amazing facial!
In Few Words
There are a lot of scenes, like those described on Czech Harem. In other clips men are having sex with only MILFs or with only grannies! All these films are amazing and they bring a lot of unique excitement that you can't find on any other porn site, so check the site and see for yourself!
Visit Czech Harem >>