CZECHPOOL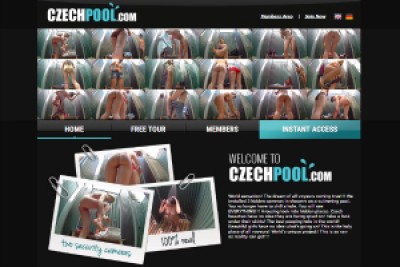 Overview
Hanging out on a public beach wherein you can see lots of beautiful and sexy chicks in their one-piece or two-piece swimwear is really nice, right? Who wouldn't love to see bulging tits and fleshy butts under the sun, dripping wet with seawater? Those sweethearts surely occupy your mind during your cold nights and lonely hours. You might wonder what those skimpy outfits are hiding, right? You are restricted to see their delicious bodies once they stepped inside a shower room. That might bring a problem between your legs. But what if you have the chance to see them fully naked without compromising yourself? Well my friend, grab your chance inside CzechPool.
CzechPool gives you the chance to peek into Czech darling's shower room. With hidden cameras to bring you what you wish to see, you would surely fall in love within this site at once. The quality of the videos is excellent, the back stories are impressive and the subjects are all hot and gorgeous in their own ways. Without leaving the comfort of your home, you now have the chance to see what Czech beauties are doing once they know that they are being concealed behind the walls. Find out for yourself inside CzechPool and enjoy!
Site Content
One of the biggest issues when it comes to voyeur contents is the authenticity of the videos. But inside CzechPool, you'll never think twice that the videos are for real. The collection is presented in a sensual website that comes in black and white combination. The layout is made neat and simple for your easy browsing.
There's a free tour for guest that would instantly set you in the mood. Sets of images are presented in different sizes. The viewing quality is impressive and the shots are brilliant. You can see the number of contents in the title of each video. There are no descriptions but the screenshots are there to do the talking. Just beneath each set of images is the invitation link for you to join this spy cam community.
The member's area presents you with the easiest way to register. You are lucky if you're accepted as a member as you will be given full access to other 32 sites. With one membership, you can enjoy differently themed porn site that features Czech darlings in their finest. In case you're in the mood for a variety, you don't have to break the bank just to get your cold and lonely nights sexually fulfilled.
Actresses & Video Quality
There are various voyeur porn sites out there that act as bait. If you want to be sure you're your experience will be pure and natural, then CzechPool is simply your best choice. You can sit back in the comfort of your home while feasting your eyes on different kinds of tits and pussies and sometimes, with massive cocks, too.
The Czech stars stepping inside the special shower room are amazingly gorgeous in their own ways. You would love the nice mix of chicks and their different showering routines. There are those that use the shower room for changing and there are those that have taken advantage of the privacy. There are ripe sweethearts masturbating and admiring their firm tits and flat tummies. There are naughty ones too who take pictures of their privates. It's easy to think they are sending the shots to their lucky boyfriends. But come to think of it. You are even luckier as you've seen everything, don't you think so?
Softcore candid footages are waiting for you inside. But if you will go and check the videos one by one, you'll see some couples who are having quickies. Most of the time, skillful blowjobs are given by the naughty and horny Czech darlings. You definitely must check them out, too!
In Few Words
CzechPool is a voyeur porn site that must be included in your list if you hate staged scenes. Czech beauties of all sizes and shapes will give you pleasures and orgasms that you would want to experience over and over again. Sign up today!
This site doesn't exist anymore, have a look at this best Czech porn sites selection.
---
Need to clear further doubts?
Have a look at some other CZECH POOL tips on some other great porn review sites!
---