DAMONDOGGXXX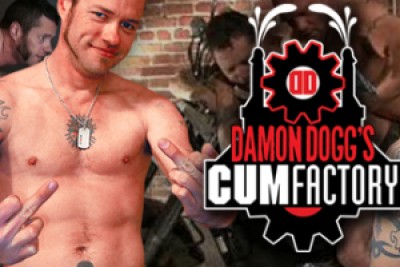 Overview
On the DamonDoggXXX you can find a collection of hardcore gay porn videos, featuring Damon Dogg and his fuck-buddies. They are fucking a lot, and they do it hard. Here you will find a semi-exclusive compilation of hardcore porn, and while you are here, some other extras are waiting for you inside. A neat collection, good quality and hard sex; these are the best things about the site. As far as we were able to dig up the information, the site has been around for only 4 years. There are around 80+ hardcore scenes here, and with the average length of 20-25 minutes, they ought to keep you busy for a time. It looks like the site hasn't received new content for a long time now, so this may be the biggest issue with it. There were weekly updates, but they seem to have stopped, and the site is at a stop now. Nevertheless the collection is nice, and it well-worth browsing through, especially if you are a fan of Damon Dogg. The videos of the site are available on DVD too, so the content is not 100% exclusive. However if you are a modern man, you probably don't use a DVD player, and you find buying discs too old-manly, then the collection of the DamonDoggXXX is a good source for hardcore porn. Bonuses are offered too, and they are what give the site that edge a man seeks when he thinks about a porn site membership. There are live cam feeds to enjoy, and they feature hot guys with gorgeous body and some kinky stuff during their shows. In case you want actual porn videos, you will probably appreciate the included bonus sites. These portals also cover gay sex from the hardcore kind, and one of them even claims to offer 'turning' videos where are straight guys are doing gay sex.
Site Content
As you take the tour on this portal, you will see that this guy isn't joking when it comes to porn. He takes it seriously, and the neat (but bit old-fashioned) site of him will make you believe that it's going to be a hot ride. The layout of the tour is similar to the inner section, so those who like to do a thorough tour will find it easy to navigate the members' zone too. There is a menu on the top, right below the banner. This menu is one that helps you to find your way around the site. It also grants you the access to the network sites. There is a simple search engine, which can also help you find videos with the desired niches covered. Categories list is also featured. You have the option to play the videos in online or offline format. The in-browser access is the best for those who don't mind a bit lower quality, and like to get to the action quickly. Those who are going to download the videos have to keep their eyes on the file-sizes, because there are is time-sensitive download limit: you can save 3GB of content in every 12 hours period.
Actors & Video Quality
The DamonDoggXXX is the cum factory of the gay porn star, Damon Dogg. Damon himself is a hot Caucasian male, with a nicely shaped body, though he is seemingly not the guy who spends all his time in the gym… instead, he spends his time traveling, and fucking-sucking his way to hard orgasms. He is over 30 by his looks, and his positioning seems to be a versatile one. The fuckmates of Damon are also quite hot. Strangely, they all look like actual amateurs and semi-professionals (but they are not), so this one-star porn site even have that impression which makes amateur-porn fans get hard. As far as we could see from the collection, Damon likes it hard and he usually have sex with Caucasian guys, but in a few cases ethnic models also make their way to his bed. We don't know exactly how to measure these guys, because they really seem to be normal hometown gay-boys. Most partners of Damon are usually in his age-range, but if you browse through his collection, you will find videos where he takes on older men too. So, it's safe to say that though the site has one major star, the variety of models is great, and so is the variety of the videos. If you are just touring through the portal you can find a categories section where you will be able to gather some information on the main niches. There are videos with bareback action, and apart from the fact they are heavy hardcore, the sex in them is quite real and exciting. There are amazing blowjob videos too, and it's not unusual that he takes on more than one men. We found the collection of the DamonDoggXXX to be really varied.
In Few Words
So, this is another gay porn site which focuses on a main star. It's not a bad thing though, because Damon Dogg has a long record, and he seems to be quite popular. This portal is really neat, and though the design should use some modernization, we believe that it has a good potential. With the hot, mostly bareback content, and the gorgeous hardcore videos, the DamonDoggXXX is a site that all gay-porn fans should visit once in a lifetime.
Visit Damon Dogg XXX >>