DAREDORM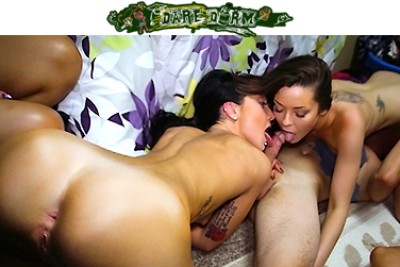 Overview
The images and videos on the site are cute, naughty, and in many cases downright raunchy, as the consequences and excitement build up among the players or partygoers. Dare Dorm is one of the SnapLeaks network of 'girlfriend' sites where you'll see a bevy of different themed fresh chick led sextravaganzas. If that's your thing too, you can't go wrong with this site and this network because it's the next best thing to being there. Being of an age when passions are still strong, the movies capture the energy and enthusiasm of the girls, and their male and female lovers, in the early days of exploring sex and each other. Look them up, down, inside and out, you're sure to find a place to call home here in the Snap Leaks network.
Site Content
Snap Leaks network has a number of fresh chick themed adult sites, like 'GFRevenge' where angry boyfriends have submitted once private sex tapes to get back at their ex-gfs, 'Black GFs', a site of user-submitted home-made interracial sex movies, 'CrazyCollegeGFs' is sort of like Dare Dorm in that it has a girl student theme, 'Crazy Asian GFs' has beautiful Asian chicks giving their all in once private but now public sex videos, and 'Horny Birds', which has more mature ladies showing they still have what it takes. So the network gives you a good look at women in their prime from around the world having fun the adult way.
It's got to be among the web's best networks for amateur-made, user-submitted sex movies. Dare Dorm's protections' first stop for casual visitors is a warning page, which lists the kind of adult content within the site and telling non-adult web surfers to leave. In addition, Dare Dorm self-labels their content using such tools as SafeLabeling, SafeSurf, ASACP and RTAlabel, all of which work with Internet Explorer's browser's built-in content filter function to help adults prevent inappropriate access to mature subject matter. As well, Dare Dorm provides a link to a free downloadable parental tool bar for even more ways to block sites and content. As a final barrier to inappropriate behavior, Dare Dorm complies with U.S.C. 2257 Record Keeping Requirements Statement, which requires models to be adults and proof to be kept on file confirming that. They don't forget their responsibilities to your private information either. Their encrypted billing service ensures your data's safety and their Privacy Policy explains how.
Actresses & Video Quality
For amateur home made movies of any quality, you need people who grew up with phone cams and social media. Those qualifications are enough to ensure the girls are the right age to make movies that once would have been private, but not any more! And those same two qualifications are almost synonymous with being eligible to become a student. Add those together and you have the hottest, smartest, fresh chicks on the Internet today recording their lives and loves in the dormitory. Dare Dorm's chicks are all fresh, cute and adorable. There are Asian, Black, Caucasian, and Latina girls all enjoying the freedom of being away from home and doing what they like, when they like, and with whom they like, without any disapproving parents around, and then they film it! Maybe they didn't intend the movie to go public but that's what has happened and we are the fortunate people who benefit. The 'benefit' we receive comes from watching the girls play to the camera.
Maybe all girls are closet exhibitionists but these have come out of the closet with a vengeance. They shed their inhibitions when they shed their clothes and their parent's oversight. Sometimes it's just girls together, sharing each other's rooms and beds, using their bare skin as a writing pad, or dancing so hard to see whose tits bounce most, or just having fun with fingers and tongues in pussies or on nipples. Most often, though, they've invited the boys round for a party, nothing formal, just bring your cock and be prepared to perform. Fortunately for the boys, it's the girls who want to perform; whether it's riding the rod or sucking it to fruition, they aim to please themselves and their friends with their growing expertise.
In Few Words
You can visit the Dare Dorm campus on a limited 'trial' membership for $4.95 for two days and you can add 'Realitykingsreel' to your trial for an additional $1 for three days. Those are both good samplers but for a full semester of study you need either the one-month membership at $29.95 or three months at $16.65 per month (for a total tuition fee of $49.95). Apart from the 'trial' subscription, your full fee allows you to watch the whole library of horny students in all their amazing HD movies and photos.
Entering this Dorm is as easy as filling out the online form (everybody can pass this test). Likewise, paying is equally straightforward. Use either your credit or debit card, they take JCB, Discover, MasterCard (credit or debit), and Visa (credit or debit) or use a personal check, if you're taking out a full subscription. Checks can't be used for the 2-day trial. Dare Dorm uses an encrypted billing agent so your details are safe and so is your monthly statement. The site has an all-day/all-year Support Helpline if you need help on anything. At these prices and with a sign up that's this easy, you can get back into class right now!
Visit DareDorm >>