DDFBUSTY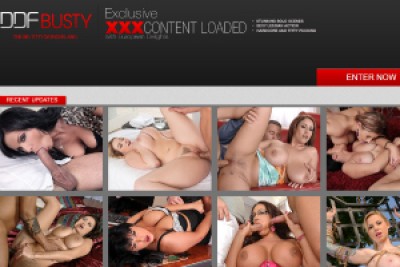 Overview
Do voluptuous women arouse you? Boobs that are splitting that shirt, making gaping holes because of the tension that they create. The ones that we are talking about are women with real boobs, which spill out of their bras, tempting you to just give them a real hard squeeze. With not just massive boobs, but with nipples that look like candy just waiting to be sucked on. Do you want to bury your face in boobs that would probably suffocate you and you feel the soft silkiness of them on your face as you fondle them? Don't you just love to see them bounce as women run around doing their chores? And sometimes when they brush you accidentally, and you get a feel of how tremendously soft they are, and then you can't get them out of your head for the longest time. Do wet t-shirt contests excite you, just to see those tits almost in your sight but not yet there as their nipple perk up and peek out of those skimpy white t-shirts, just playing peek-a-boo with your head?
Well, let us get you introduced to titty heaven then! DDFBusty brings you boobs like you have never seen before. DDF Busty is an absolute heaven for those who salivate just thinking about boobs and how when women are aroused their areolar scrunches up to reveal the nipple. Does just thinking about this make your cock hard? DDFBusty make sure that the boobs that are made available on this website are nothing short of spectacular. Denys De Francesco owns DDFBusty. He is a world-renowned photographer and owns a lot of other known sites like these. With his artistic eye for lighting and framing, the videos made by this site are not only exclusive but also very tastefully made. The kind of stars that are on this website are famous for their stunning boobs. They not only have stunning boobs but they also are some of the most beautiful women in the industry. And a lot of them are famous stars, stars that you will obviously know like, Ashley Robbins, Anita Blond, Aria Giovanni and Anna Song. And this website boasts of boobs whose cup sizes are D, DD and F and above only. You will certainly never be disappointed.
Site Content
Don't you just love websites, which are clutter free and very easy to pilot through? And if this is what makes you like a website, I'm sure that you will love this one. The first thing that you will notice as son as you enter the site is the slide show that just pops into your face. On the slideshow, they have pictures of beautiful blondes and brunettes doing nasty thing with cocks that is bound to get your heart racing. You get a definitive peek of what is in store for you. At the very top, there are links to other parts of the website such as home, updates, porn stars, our sites, live and dating. Those help you steer easily through the website.
They have also made a search bar available right besides these links, so all you should do is type in those key words that you are looking to watch like, 'blonde ass play', and voila! You find tons of videos, which cater to your need with those exact specifications. They have divided the website brilliantly, into different categories such as latest big tit scenes, top rated porn stars and newcomers. The colors that are used are the simple usual colors, but together they bring a vibe of sexiness and allure making the page attractive to look at. The colors that are used are black, dark grey and pops of red. The black and the dark grey are used in the background and the red is used on the texts to highlight it. They have managed to make the website look stunning.
Actresses & Video Quality
DDFBusty, the name says it all. They live up to their name, literally. They bring to the table women so hot and who have tits, which literally over flow their bras that you will be left with your mouth hanging. And not only are they blessed with these beautiful assets but they also know how to use them to maximize your pleasure. They know how to get the movement right and they ride and grind their men, letting their boobs bounce all over. With their sexy and famous line-up of stars you can be sure that you wont be disappointed. If you look at Karina Heart, one look at her face will make you wall in love with her and one look at the rack she has will make your cock fall in love with them. You will be intensely turned on just looking at her boobs being devoured, squeezed and sucked. And as she's being pounded from the behind you will see her boobs swayed in unison with the motion which is surely going to make your cock jizz all over the place.
In Few Words
DDFBusty has excellent deals for you that are easy on your pocket. At an affordable price and a brilliant website, it has everything that you need, boobs, nipples, cocks being sucked, pink pussies fucked and cum all over the place. Is there any other incentive for you to join this website? Hit subscribe!
DDF Busty has been closed, check out more amazing boobs on this selection of top porn sites with big boobs.
---
Need to clear further doubts?
Have a look at some other DDFBUSTY tips on some other great porn review sites!
---