DOMTHENATION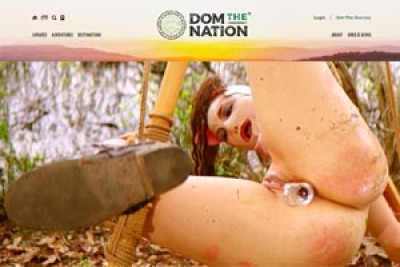 Overview
Awesome HD BDSM porn site, Dom The Nation brings you exciting and adventurous models who are genuine connoisseurs of BDSM porn. These kinky people led by porn producer and actor, Neil, love to fuck wild and rough in the outdoors! From hardcore anal penetrations to rope plays, butt plugs, sex toys, rimming, fingering, group orgies, and more, these guys will surely make your head spin in intense anticipation. You won't find the usual dark dungeons or hot girls in leather and latex costumes, everything happens out in the open. Surely, you'll fall in love with their careless attitude and total lack of inhibitions when it comes to rough and raunchy sex!

Site Content
Dom The Nation comes with a well-designed and user-friendly website. The collection is not yet that huge, but there are surely enough videos to keep you satisfied around the clock while you are waiting for the new uploads. The homepage flashes the latest updates along with the nastiest adventures of the models. You can't get a teaser of the hot BDSM actions, however, the big and vibrant video thumbnails are more than enough to give you a preview. The pagination is impressive. However, if you want to see everything that this site boasts, you have to visit the Updates page.
You'll find different categories, such as Adventures and Destinations, Rest and Reflection, Vanilla Fun, Rough and Filthy, and Hard BDSM, to name a few. And since the BDSM scenes take place outdoors, there is also a page that allows you to filter the content by destination. Your options include South, West, Midwest, Northeast, and Global. Now, if you are curious about the reasons why the models do what they do, just go to the About Us page and you will find the answers. Surely, you'll love them even more once you've found out the personal details about the performers.
Actresses & Video Quality
Dom The Nation is the product of Neil's realization back in 2019, the moment when he realized that BDSM fans deserve so much more. This guy then embarked on a journey to create a world where all the kinky and rough fantasies are welcomed without compromising sexual orgasms. The videos take you to different parts of the world, with always a hot and gorgeous girl who is willing to submit to all of Neil's wishes. Some of the hottest girls who will surely lure you and make you become a willing member of this Dom nation are Lexi Gray, Charlotte Sartre, Lydia Black, Rory Knox, Hazel Paige, Brooke Johnson, Rocky Emerson, and Audrey Holiday.
In Few Words
Dom The Nation gives you a place where you can escape and unleash your BDSM fantasies without feeling ashamed. The theme of hardcore sex in the outdoors is already spectacular, but the scenes are made even more irresistible by a roster of impressive models. Most of them are professional porn performers who are also discovering new things with the Dom Master. Neil is undoubtedly a master of BDSM porn and he can always pull off the kinkiest shows while ensuring that the girls in his videos will get what they came for!
Visit Dom The Nation >>
---