EUROTEENEROTICA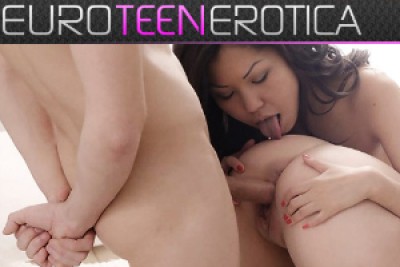 Overview
EuroTeenErotica, a porn site dedicated to present the freshest hotties in town. According to the site's tagline, they are "barely ready to fuck". The porn site is part of the prestigious European porn network, DDF Network. This porn network is home to the mind-blowing videos of Denys Defrancesco, all crisp and clear, shot with high-definition cameras, carefully crafted to bring out people's wildest fantasies and turn them into high-quality porn material, both video and photos. Focusing on the site alone, members will enjoy more than three hundred porn stars, almost six hundred videos, and over forty thousand photos. But if you are going to consider the entire network itself, then you can triple those numbers with endless hours of orgasm. While the website focuses on the freshness of their hotties, the videos range through all different themes and niches. That means you will get to enjoy a wide variety of porn movies with creampies, blowjobs, big boobies, and more. Everything is simply up to you, like whatever you're craving for right now. And if ever you wake up tomorrow and feel that you'd want to explore another theme then you may do so, without even the need to go to other sites, though it is important to mention that you can access them as well. Yes, you have read it right. Hence, let us now move on to the membership details. There are three main types to choose from: a month, three months, and a year's worth of access. If you want to try this site out first though to make sure that it will really give you the videos that you want, then you can opt for the two days access trial membership first. It would not cost you that much and you will be able to see the selections within the site. Once you do, the chances are you will most likely be joining the site anyway. With the quality videos and storylines within the site, you will surely crave for more. Two days will not be enough. If you are looking for the option that best provides value for your money, then the year's worth of membership has the lowest monthly pay.
Site Content
The website is classy with its sleek black design. The landing page will welcome you with a big banner that is a slideshow announcing their latest updates. Scrolling down you will see the thumbnails of their latest scenes. These thumbnails are really helpful. First, they show you the action-filled part of the video. Then, they also offer some of the technical stuff about the video like an icon that means that you can view it using your Apple devices, then another saying that it's on Full HD, and other useful info. Another scroll down will show you their hottest porn stars, these are their veterans, those with the highest rated videos. More or less you they are also the ones who are so popular that it would not be surprising to see them making videos for other big porn sites as well. If it is newcomers that you want, then all you need is to scroll down a little bit more. There you will finally see the latest additions to their still-growing list of porn stars in the network. These newbies are more or fewer ones that they have discovered themselves recently, so you would not be seeing them anywhere else but on DDF. And yes, as we mentioned, you will be seeing this part constantly updated as the DDF Network never tires of hiring new recruits to join their community. Moving on, as what has been already mentioned above, all of their videos and photos are of top quality, and all of them are available for either streaming or download. Whatever your choice is, rest assured that the EuroTeenErotica's fast servers got your back. You will never have to wait too long for a video again so say goodbye to that slow loading time and buffering. You also do not have to worry which device you need to use to access the website because the entire site is mobile-optimized, ensuring that you can visit the site anywhere with just your smart phone or tablet on hand.
Actresses & Video Quality
Taking your cue from the name of the site, all their hotties are indeed as fresh as they can be with still tight pussies and asses, all of them hungry for experience. You might notice some of the veteran porn stars running out of breath by the middle of the video, or that their male co-stars don't really find it too difficult to get their dick inside because they have been in the business for a couple of years already, and that's normal. We respect that. If you are thirsting for something new, though, where the ladies are still full of enthusiasm and endless stamina, with a twinkle of curiosity still new in their eyes, then this is the place for you. All of the ladies here are up to the challenges they have never done before because of the restrictions of age, but now that they are already capable of doing them because they can already be considered as full-grown women, then their answer is just: bring it on!
In Few Words
Overall it is really a porn site which anyone would enjoy, regardless of taste and even gender (yes, there is some serious girl on girl action in there!). The site also offers its members some insight behind the making of the videos with their Porn Star Interviews. All of their features are really something to look forward about every single day.
This site has been closed, check out other good European porn sites on the best Euro porn sites list.