EXHACKED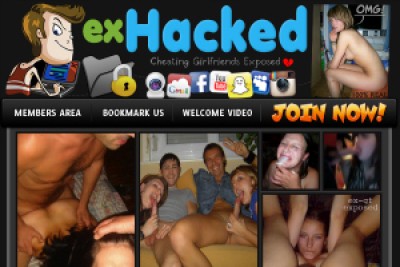 Overview
The ExHacked is a rather new porn site that focuses on providing amateur content to the members. It's true that the videos and pictures feature amateur cuties and they offer some really nasty hardcore sex. At this time the site offers more than 5,000 videos and much more photo sets, and they update regularly. There is one major drawback of sites like this: the content is not exclusive, and for whatever reasons, there are hardly any actually new stuff arriving. However this site offers the visitors a good compilation without the fuss caused by fake network sites.
Site Content
If you are a fan of amateur porn, and you have been searching around the web for that kind of porn, you probably already know what kind of tour these sites offer. Though the ExHacked is a rather new site, it follows the mainstream direction when it comes to the free tour: you get only thumbnails to browse through, not one single trailer is offered. As for the design, the ExHacked follows the trailblazers in this aspect too: there are lots of pictures and no menus. When you land on the site, you will see the main heading with the name of the site, and some social media sites' logos. Under that the tour begins: you can see dozens of medium thumbnails as you scroll down the site.
You have to make the decision about joining in the possession of the information you can depict from the thumbnails. The inner section of the ExHacked is very simple. You can see a search bar at the top, you can use it to navigate through the content, and find what you are looking for much easily. There is one problem though: there are no real categories tags, and the site simply sticks to its main idea that these videos are all hacked and leaked. This is why you get silly (and a bit useless) categories like Cheaters Exposed, Home Cams, My ex GF or Sent to Wrong Email. Nevertheless, it's a good point that they have categories at all. As extra features, the site offers you the option to build a favorites library, like and comment on a scene. The videos of the site are available for in-browser watching and for downloading. Since the scenes are not too long, playing them in the browser isn't a problem, the player loads them quickly, and the playback will prove to really smooth. As a member, you also get access to the videos as downloadable files.
You have the chance to save them all in MP4s. Since they are rather short clips, they will be on your hard drive in no time. There are photos too. Now you may have already noticed that most of the times the amateur sites offer much better video quality than other pages. Don't expect here high-res pictures, but the quality is good, and they are obtainable in zip files.
Actresses & Video Quality
The girls here are all real, and what they do was done before many times, but this time they were captured too. This site is another great website that offers the members real hardcore porn with girls next door. It seems that the guys running the site aren't picky however, because as you start browsing the videos you will see that most of the times, the girls are aged under-thirty. This is a fact that could be satisfying, though the collection is much better since there are some dirty housewives, MILFs and cougars too. Since the videos come around the world, it's only natural that you will find here practically all ethnicities present.
You can see here thousands of Caucasians doing nasty things, but those who get turned on by Latinas could find here a lot of them too. In fact, it doesn't matter what you like, because Black girls, Asians, Indians and probably some Arabic cuties also appear here. It's natural that the bodies you can see here are mostly naturals. There are big bouncing tits, which would feel really nice if you would come to touch them, but those playful perky things are also presented here. Since there videos that were shot by semi-pros, you can expect to find some fake breasts too. As for the videos, you get what you expect from an amateur-focused site: great variety of sexually explicit (meaning dirty) videos. It's quite sure that you have encountered most of the content on other sites (that's the curse of the user-submitted content), but the overall selection here is very hot. The sex that takes place in the videos is really varied. You can enjoy here hot vaginal sex between a girl and her boyfriend, but these adventurous couples often invite a third person, thus a huge number of threesome videos are shot.
There are party footages, where strangers fuck strangers and these scenarios often turn into gangbanging too. Anyone who prefers group sex should check this collection. As you browse through the content you can see that there are numerous heavy hardcore niches covered, because the videos here feature anal sex, double penetration, interracial sex, and some fetishes also there, like bukkake or squirting. Though the videos aren't offering the greatest qualities, they are still really satisfying, and if you are a true porn fan, you won't whine about the resolution, because the content is the most important. The length of the scenes also varied, so if you want a quick jerk or a full round scene, you can get it here.
In Few Words
You could say that this is 'another' girlfriend site with non-exclusive content. Yes, you could say this, but there are some things that you should consider before giving up on the ExHacked. First and foremost you shall note that there are not just girlfriends here, some more grown-up women and couples also appear, so you get neat variety. There are regular updates, and as time passes the quality gets better.
Visit ExHacked >>