EXTREMEGANGBANG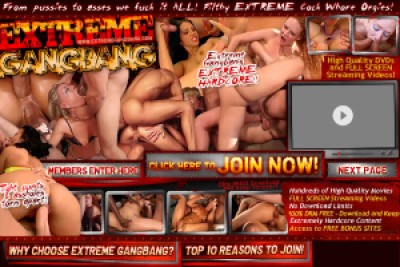 Overview
A good gangbang delivers that pleasure that you would never get from an ordinary adult scene. It shows you that there is never a crowd, instead, it is exactly the kind of company that you would love to be keeping. If you love raunchy affairs then you have landed on the right adult site. Long gone are the days when porn sites were conservative, hiding amidst threesomes. Nowadays adult action has taken things a notch higher by providing you with gangbang scenes that will make you cut your pants as soon as you lay your sights on them.
Through the site, ExtremeGagbang, you are free to dig into the land of coital pleasures in a way that you never have before. If your sexual cravings are of the kinky type, then you will most definitely enjoy the hardcore fucking, numerous blowjobs being dished out at the same time and lots of rough sex. When I say rough, I do not intend to use the word lightly as these scenes will truly put you over the edge. It does not matter how you define pleasure because ExtremeGangbang will meet you at your point of sexual need. While others may prefer to have dinner parties, the models on this porn site prefer to have gangbang parties and love to have warm cum as a desert.
The random way that the action here is presented to you also goes to show that your fulfillment is the ultimate goal. These beauties do not really care about your perception of them. Usually, they go beyond their call of duty to ensure that you will get addicted to all that the portal has to offer. If they could, they will add your cock to the gangbang scenarios but don't you fret, you can always get off on watching them get down and dirty.
Site Content
ExtremeGangbang is an adult site that will captivate you from the get-go. The arrangement of the scenes will lure you to click on them in order to fully make the most of the action. Yes, the platform, in general, is that irresistible! Downloading the scenes can be done in WMV format or general flash streaming that will give you great quality playback. The site does not have any annoying advertisements that may interrupt your viewing moments on the portal.
Despite the fact that there aren't any galleries here, there are thumbnails that accompany some of the flicks.
ExtremeGangbang also comes with links that lead you to all of the extra content. The bonuses are found under the hot sites section. In case you need some diversity, these flicks will truly come in handy. For a collection of 132+ flicks, you will truly be occupied by what the portal has to offer.
Exclusivity is not a problem because the site guarantees that you have not seen these flicks elsewhere before. As a member, you will get nothing less than HD viewing and this is the beauty of all your viewing moments. All of the scenes have a run-time of 20 minutes, and this means that you will enjoy 20 minutes of thrilling action.
Actresses & Video Quality
As the site's title already tells you, ExtremeGangbang is not a platform for softies. The models are over the top and they enjoy bedroom matters that we would find rather wild and cannot be attempted. However, they will show you that all is possible in love and sex. You will be delighted by the fact that the action is unscripted and the beauties go above and beyond to seek pleasure in the most unorthodox ways.
For instance, Lydia is a horny slut who cannot go a day without getting raw action. The pussy and tight assholes seem like they could not be able to handle the fucking and banging but you are about to get shocked seeing the action unfold. Lydia gets pleasured by three huge cocks that go inside her mouth, her pussy and assholes respectively. She is moaning with pleasure and a huge cumshot on her face gives her the ultimate satisfaction. You cannot go by her pretty face and must watch her cock sucking skills in these videos. She is taking these cocks deep inside her mouth and rubbing the balls of this guy. She is truly a sex goddess and perfectly knows what she is doing.
On the other hand, Julia is screaming at the top of her lungs because of the intensity of the action. She is not afraid to go where most of us would fear treading sexually. Julia is not the only one who will make you fall in love with her confidence and raunchiness in the bedroom, Bistro is also another hot model that will shock you with her enthusiasm for multiple cock sucking. All of the models are exceptionally beautiful and the fucking frenzy.
In Few Words
ExtremeGangbang is a porn site known for great adult action that will always leave you at the edge of your seat. The exclusive content is enough to let you know that the site values your satisfaction and puts professionalism in its delivery of content on top of everything else. Most of the flicks are threesomes but worry not, this does not take from the credibility of the platform. If you are looking for great gangbang action, you will certainly find it here.
This site has been closed, have a look at our best BDSM porn sites collection.