FILF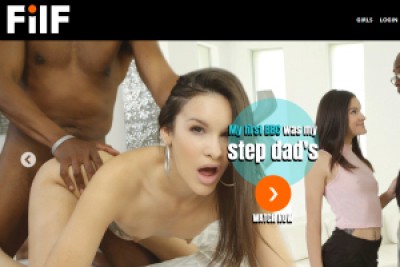 Overview
A great porn site, FILF offers you the best stepfamily sex in the entire porn industry. An acronym for FamilyI'dLikeToFuck, FILF offers the most insane taboo themed sex that includes a stepbrother fucking his stepsister, a stepdaughter seducing her stepdad, and a stepson fucking the chick of his fantasy, his stepmom. FILF shows insane taboo sex that can give you a great time to jerk-off every night. But before you can subscribe to this exquisite porn site, it does make sense for you to read a comprehensive review of this awesome site.
That's what we've done here, and presented a comprehensive and unbiased review of FILF. The review will cover two important aspects of the site, the design and features, and the girls and videos. The design and features will cover the way the site has been designed and where you can find the videos of your choice, including a few technical aspects of the same. The girls and videos feature a detailed description of the kind of bitches that FILF offers you, and how the videos presented here enhance your jerk-off sessions considerably.
Site Content
The creators have ensured that FILF has a great site to boast of. The modern and contemporary look to the site is enhanced by using a beautiful scrolling slideshow at the top of the site. The slideshow informs you of what to expect, and includes the title of the video. There are four titles, specially handpicked for your kinky pleasures. You'll love to check out My First BBC was my Stepdad's, or I came all over my stepmom's boobies, or Fuck and Sniff or Netchix and Fill. A description of FILF is seen below this scrolling slideshow, and identifies what you can get from this awesome site.
As claimed in the description, FILF is filled with the hottest stepfamily fuck films and fuck fests that come to you in 4K or 1080p HD resolution. At such very high quality, porn movies will only improve your experience, and you will enjoy them like there's no tomorrow. Below this description, you will find thumbnails of various videos placed in a neat and effective grid format. The grid format suits porn sites like these, because you can get to what you want in no time, even in the absence of a dedicated search tool. The thumbnails carry a title with the runtime, the number of people who've viewed the video, and the percentage of likes. On clicking the thumbnails, you are taken to a new page, which offers you a description of the video, and more details about the chick featured in it.
If you have a login id and password, you can view the video streaming onto your computer. And if you want to view them, and are not a member, sign up quickly. Apart from the 4K video quality offered by FILF, the site is compatible with mobiles, with exclusive stepfamily sex videos updated regularly, and available in multiple formats for downloading. FILF boasts of over 200 videos with varying themes and scenes. The storylines are unique and will make you believe that sex in a stepfamily will truly be like what is depicted on FILF. You will also want to be a member of such a stepfamily, and want to fuck all the sexy bitches who have a fetish for rock-hard cocks and taste white gooey cum.
Actresses & Video Quality
This is the most interesting part of the review, for we will be describing the girls and the videos that adorn FILF. You will want to subscribe to FILF because you want to watch a bitch's pink cunt being filled with a rock-hard cock, stroking in and out of the hole, as the slut moans and screams in pleasure. You will find a lot of scenes like this on FILF, but before we get to the scenes and a video description, let us check out these bitches.
The bitches featured on FILF are diverse, and include amateurs, matures and MILFs. Getting all these three categories of sluts in one frame is sure to guarantee you a great time, whether you are fucking your girlfriend or jerking off in the confines of your room. The amateurs have the most amazing and nubile bodies you've ever seen. The chicks are gorgeous, and have a penchant to seduce men with rock-hard dicks. They love to sneak into a bathroom, especially when their stepdads or stepbrothers are bathing, just to catch a glimpse of the dick dangling between the legs. They fantasize about the dick filling their holes, like their mouths, cunts and asses, and are ready to do anything to seduce the hunks. The sluts possess sexy breasts, perfectly round and firm and one would only want to squeeze, grope and fondle them all night long. The nipples are sprightly, and you will love to suck them, feel their hardness inside your mouth, as the slut feels wet between her legs. The MILFs and matures up the sex quotient by a few notches, allowing you to truly enjoy every moment you spend on this exquisite porn site.
Let's describe a simple video which you will enjoy reading. Penelope Reed comes back home after a hectic day and wants to feel her wet, tight and pink cunt. She is immersed in pleasuring herself, fingering her pussy, when her ultra-sexy stepmother happens to step-by. Instead of letting her be alone, she decides to step in and get involved in a sexy act of mutual masturbation. Julia goes down and starts licking and eating Penelope's pussy. Penelope likes it and reciprocates the action with her act of cunnilingus. Soon, they have insane sex, and cum hard at the end of the sex session.
In Few Words
If you've enjoyed reading about FILF, then you will surely love to know that FILF is a free site, and you don't pay anything for subscribing to this amazing site. Yes, the site comes for free and gives you the most interesting taboo and stepfamily sex like no other site gives you. So, what are you waiting for? Subscribe for free now and enjoy the best stepfamily porn ever.
Visit FILF >>
---
Need to clear further doubts?
Have a look at some other FILF tips on some other great porn review sites!
---