GIRLSWAY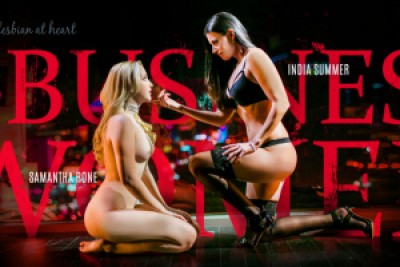 Overview
The GirlsWay is a hub, where you can find the videos of several lesbian-focused porn sites. These sites all have their own main niches, but the lesbian topic is a common point in them. As you embark on the journey to explore these sites, you will see that there are all kinds of hot cuties around, including some of the most gorgeous MILF models too. The sex in the videos is hot, very sexy, and the girls are doing an excellent job making the videos as sensual as possible. The whole network is rather fresh: the sites launched during 2014, and some of them are hardly a year old. However, there seems to be a good audience for the sites, because the videos are coming regularly, and the quality is quite superb too. There are weekly additions, usually one flick is added every week. You shouldn't worry about quantity, because the GirlsWay grants you access to more than 630 videos and 700 photo galleries, so you get a lot to enjoy. With the regular updates, you won't reach empty points, and there will be always something hot to watch.
Site Content
Even the tour page of the GirlsWay is hot. As soon as you land there, you can start counting tits, because that's what you can see all the way down the bottom of the page. If the thumbnails are not enough to convince you, you will certainly appreciate the six preview trailers you can watch as a visitor. The layout of the members' zone is consistent with the layout of the tour, the only difference is that the slide-show will be gone. The main menu will be on the top; it offers the usual options for you: you can go the videos, the extras, the pictures, and you can also list the girls, or visit the blog and the forum of the site. In the Extras section you can mostly find interviews and behind the scenes. Since some girls never shot lesbian porn before, their interviews might interest you, especially when you see how much they loved it. You can watch the videos in your browser. For this, the site provides you a Flash stream, which grants a WebHD resolution. It's not that great, but it's quite enough to enjoy. The best quality is available when you save the videos: the downloadable MP4 files offer 720p and 1080 versions too. There are large photo galleries too, which you can browse easily from the browser, or save as zipped archives. The site is easily accessible on smart phones and tablets too, and browsing is quite comfortable.
Actresses & Video Quality
The GirlsWay offers you a really great collection of porn, and you will find these girls especially hot if you like to browse a mix of natural and faker bodies. There are all kinds of chicks here, and in case enjoy watching hardcore lesbian sex, they will be the ones you are looking for. Every girl is a professional, and though there are lots of names you may not recognize, all of them endeavor to get the best out herself, thus providing you with the best porn experience you seek. There are not just professional porn star on the models' list of the GirlsWay, but you can find among them award-winning hotties too, who have industry-wide recognition, and probably never run out of opportunities. As you might expect, these models are not natural lesbian, they are usually bi-oriented, so they like to have fun with a big bad nine-incher, just as they enjoy the touch of their fellow women. There are all three popular ethnicities featured on the GirlsWay, so you can enjoy watching videos of Black, Asian and Latina models. This ensures also another type of variety, and believe it, there are no girls you could mistake for each other. Every model has different attributes, and while you entertain yourself by watching their videos you might find it out too. Some really serious business is going on behind this site, because the videos and the series you can find here are really well done. They all tell a story, and some of them are continuous, so you can wait for a new episode now and then. You can sort the videos by sites they are published at, and so you also make them into different series. There is a really nice filtering option on the videos' page, and it's quite recommended to use if you are looking for something in particular. Also, you can choose which series' videos you want to list, so if one scene got your attention and you want more of it's kind you can do so. The series here are mostly feature lesbian fantasies like cougars on kittens, or girlfriends hooking up… but there are wife affairs too, is that's what you have in mind. These videos are nicely built, they are not just making you horny, but you will find it that watching them is also entertaining. In case you are looking for a large collection, high quality, nicely done lesbian porn site, this collection certainly worth checking. Also if you like to know how porn is made, lots of Behind the Scenes videos are featured here.
In Few Words
The GirlsWay will be your favorite porn site, especially if you enjoy watching cute girls engaging in juicy lesbian love, making each other scream and moan with pleasure. Those who like to see cute girls in girl on girl porn might just have found their favorite website for years to come. Since the whole network is rather new, the videos are all shot in high quality, and the majority of the collection is HD and Full-HD. There are no other sites in the network, so the GirlsWay is highly recommended only to those who are into lesbian sex.
Visit GirlsWay >>