HERFIRSTKISSES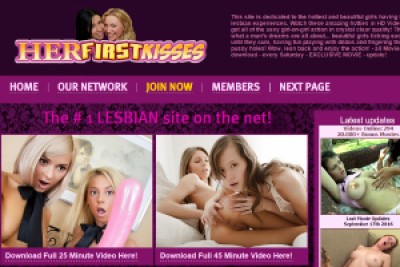 Overview
Cute girls who are so amateurish when it comes to sex are the ones who are always featured in the Her First Kisses porn website. There are even times when the videos that you can find here in this porn website are all about girls giving away their first sexual experience. However, the sex videos do not feature male-female sex actions. In fact, all of the content that are under the Her First Kisses porn website feature girl-on-girl action. Through the site, you get to witness hardcore plays like girls making out with girls, pussy fingering, a dildo fucking an asshole. The videos can really go beyond the hardcore territory so you have to reign in your own libido and hormone, otherwise you will not have enough to last you through the entire video. The hardcore plays are really erotic and sexually charged so you better prepare yourself well. The girls are a mix of Europeans, Americans, and other ethnicity.
Site Content
Her First Kisses is one of the amateur porn websites on the Internet that showcase lesbian videos. Of course, the site offers hot chicks and that is what you would immediately notice when you visit the site. As soon as you get your full access to Her First Kisses, you can notice the clean look of the member's area. There are appropriate tabs and they are placed at the right location. You can easily find your way around this porn site since you are easily connected to the right page through the main tabs: Videos, News, Bonus Sites, and such. Again, there are only videos available here in the site and they total to more than 525 videos already. These videos can be downloaded or streamed without limits. They are available in their Flash, WMV, and MP4 format. On average, the videos can last between 20 to 40 minutes.
The site offers regular update. It is promised that videos are to be added into Her First Kisses' video archive at least once or twice a month. Of course, there's no photos but that should not deter you from getting a membership to the said porn site. After all, your full access to Her First Kisses porn website does not only entitle you to the 500+ porn videos in the archive. You can also access the porn content for the bonus sites under the ExtremeMoviePass network, which actually totals to 72 bonus sites. If you total every porn video that you can get out of these bonus sites, there are more than 11,741 sexually charged videos available for your streaming.
Some of the bonus sites that you should be able to access when you are here in Her First Kisses include Asian Hot Bunnies, Anabell 4 You, Big Breast TV, Bea 4 You, Crazy Beauties, Flexi Fetish Girls, Spandex Porn, Crazy Mouth Meat, Crazy Monster Cock, Crazy Pee Girls, Only Breast, Fetish Transformation, and so many more! Out of the bonus sites that you can access to when you get a membership to Her First Kisses, there are only 11 sites you are given full access to with your normal membership. The remaining plethora of bonus sites can only be offered to you if you pay extra for a special membership. While the site is really optimized for an amazing porn browsing experience via your computer, you won't be able to enjoy a mobile version of this site. That's okay though.
Actresses & Video Quality
Her First Kisses only targets those who love watching lesbian sex so you can be sure that the models you can find here in the site are all lesbians. They are the ones who are giving away their first sexual experience with their girl friends. You better watch out for these girls because, even though they are lesbians, they are sexy as fuck. They really have the best physique that you would want to have sex with. They have very erotic faces that can help you pitch a tent when you want to get a load off. These beautiful sluts can be Americans or Europeans. Their tender skin, slender curves, and big chests are their charming points.
If you want blondes, brunettes, redheads, or black-haired beauties, then Her First Kisses is the best porn site that you can access. The girls here are not only physically appealing. They are also the ones who are excited about giving away their first time, regardless of how hardcore the sex plays become. You can find scenes such as fisting, anal dildo fuck, masturbating, fingering, double penetration, and pegging here in the site. The most common thing that you can see in these lesbian videos is the use of sex toys as well. When it comes to an amazing lesbian sex, the use of sex toys is a must. Be amazed with the sex you can witness here in Her First Kisses. However, be more amazed at how amazing the female porn stars you can watch here in the site.
In Few Words
If you find it fun to watch girls participate in lesbian sex and have them cum through the use of fingers and sex toys, then Her First Kisses is one website worth paying a membership for. Here, there are hot and beautiful whores who are excited to experience their first time with another girl. You can enjoy a lot of girl-on-girl sex plays here. If that really turns you on, then you have to get your membership to this site as soon as possible. That way, you will be able to immediately watch the videos already available in the site as well as explore what its bonus sites has to offer for you.
Visit Her First Kisses >>