HUSTLERLESBIANS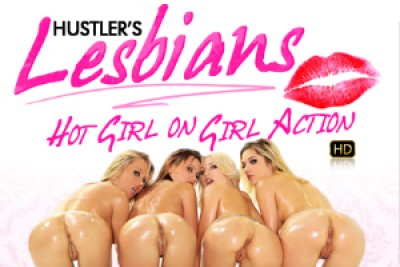 Overview
The HustlerLesbians forms part of the larger Hustler group; meaning that you can get access to 20 other top notch sites just like that, with the click of a button, all part of the famous Hustler brand. It stands to reason therefore that you will only find the best of the best in videos, pictures and models. The landing page alone will have you hooked. The HustlerLesbians people do not learn the job, they know the job. The site gives you access to more than 8000 photos of their to-die for models, not to mention the 6000 or more videos that will get you to the edge of your seat. When browsing the HustlerLesbians, you will not be interrupted by ads, pop-ups or other time-wasting stuff. What you will find however is the real-life photos of expert chicks having a great time with one another. Why would you be on HustlerLesbians if not for the great quality? There is no guesswork but hands-on fun with hands and tongues and bodies. The Hustler's Mega Pass is the thing you want, it is your door to HustlerLesbians, but if you are not in the mood for a lesbian show today? Try your hand on Sexy Mama. Not? There are big boobs, older men, fresher chicks and ass fun. Still not happy? Have a look at the Asians on display. Oh yes, and you will find new content daily.
Site Content
It's so easy to navigate the HustlerLesbians. Immediately you can click on any photo that grabs your attention or you can directly go to the videos online. Read a short bio on every model on HustlerLesbians, check up on her vital statistics and see more pics of the girl you fancy. Why not, you want to know what you let yourself in for. The beauty of the online videos is that you can download them. Don't have the time now for the rush? Watch it later when you are home or relaxed. Everything on the HustlerLesbians is downloadable on a tablet or other mobile device.
Actresses & Video Quality
Many of the models on the HustlerLesbians are pornstars. Bree Daniels is a blonde dame with green eyes; she has one video to her name. Not into blondes? Sativa Rose is a Latino who has done 6 videos already. Charlie Laine is a HustlerLesbians newbie with high hopes and a very willing libido. Her intention is to delight fans for years to come; she considers herself as bisexual. Many girls are new to the trade but others are experienced with long careers. The girls on HustlerLesbians are skinny and in shape; what else would you expect from such an active sex live? Fat, flabby and unfit? Not on your life. These hot chicks are busy and keep their divine bodies toned to the limit. Heights differ; taller girls as well as shorter ones appear on the site. With regards to skin color, choose your poison: darker, lighter, in between. Ebony goddesses or lighter skinned tigers; it makes no difference. Many are into lesbian acts, others are bi-sexual and off course there will be theone with the whip. These girls to eat each other's tight pussies to make them squirt hard all over the places. A big dildo fuck makes their pussy happy and you can hear the pleasure in loud screams and bodies covered with cum of their girlfriends.
In Few Words
The HustlerLesbians has 9000 movies and counting. Watch the chicks play out their scenarios in 25 minute slots, giving you enough time to get into the game. They get all hot and steamy in no time, just what the doctor ordered. 'Angels and Devils' is a HustlerLesbians video with the devil in play. Who is up for a game of chess? And with the devil of all people? And what will happen to the loser? Will it be anal?? 'Your Kissing Cousins' are busy little bees; these fresh chicks get off spending an afternoon discovering how to slake a thirst. No homework today…In 'CollegeCuties Seduce MILF Beauties' the threesome get up to mischief, see the video to see how it plays out.
Visit HustlerLesbians >>