IFRIENDS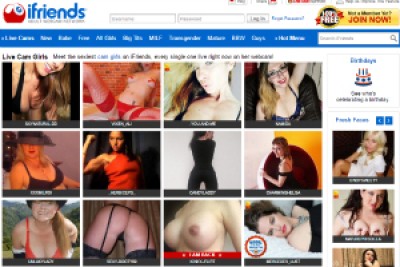 Overview
Feeling lonely in the night, deep when everyone is snot awake can be one of the most stressful feelings, one that you cannot get rid of so easily. Well, for those of you who are lonely, and happen to be horny, too, you can have your break now, and enjoy a site that has been helping me for a long time. This site is called I Friends, and rightfully so, as there are many models there, male and female, who will have camera chats with you, that of the kinky kind.
Site Content
This site is not only user oriented, but in such a way that you have that ease of access that everyone wants, and even more, because the site is not bad to look at. That means, translated, that I love its design, as it has simple combinations of the colors blue and white, to make those menu buttons stand out. Speaking of which, they are very intuitive, and it takes you only a second or less to get to the page that you want, and wherever else you might want to go. The home page is straightforward about the content of the site, and once you cast your eyes upon the previews of the models, listed in front of you, you can already get aroused from all the nice, big butts, the cute girls and guys, too. What this means, is that everything is sorted on the sites, even though the previews might seem randomly placed, at first. This further enables you to find the things that you want, and so does the search bar. But, good optimization takes this site even further, as the pages take no time at all to load, and they work very well on all the mobile devices.
Actresses & Video Quality
That being said, you know that the technical parts are great, but what about everything else, the sex, the models, the cameras? Well, depending on the model and their preference, they have a variety of cameras, so the picture itself will vary. The models are also different, and you can see a whole lot of them, from the chubby ones, to the muscular ones, to the skinny girls and the ones with gigantic boobs. The males are also various, from your regular dudes and jocks, to those who look more feminine than masculine. But, the models being different, it is not so easy to pick one, and that is why, as a paying member, you get access to the previous shows, and you can watch them as you please. Likewise, paying members get those one on one sessions, the private camera chats, which usually turn into something else. That means that once you join, and as a paying member, you will unlikely be lonely ever again, as the people on the site, the models, will keep you company, the kind that can get you to that orgasm. Sorted by region, the models vary, so you know that you can find almost any type.
In Few Words
Say goodbye to loneliness and hello to pleasure, satisfaction and fulfillment. All of that can be achieved by joining this site, the one called I Friends, where you will definitely make new ones, the ones that will keep you busy for quite some time, and with your hand down your pants, too, for that pending orgasm.
This site has been closed, have a look at our best sex cams porn sites collection.