ILIKEFETISH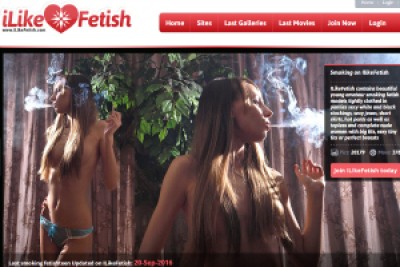 Overview
Some of us don't get settled with one fetish. And with the wide variety of kinky themes to choose from, we might as well explore these all at once because why not? However, not everyone likes to sign up to multiple porn sites. Aside from the fact that it is an additional cost to their part, attending to these sites can be a bit difficult to manage. Lucky for those people, I Like Fetish has saved them from this difficulty. The I Like Fetish porn website is a mega-site which contains a collection of fetish videos coming from 9 different fetish sites. With your one simple membership, you get access to a lot of fetish contents, from smoking to spandex. There's definitely a variety of kinks that you can choose from that will surely take charge of your kinky desires.
Moving on, this site claims to be 100% exclusive. This means that you have to sign up in order to get the kinkiest and dirtiest contents of the site. If you are hesitating upon signing up, don't worry because the membership plans are very flexible. The site also regularly updates its contents. Although they promised to provide daily updates, I noticed that there are some dates that don't have any updates. You can see this easily in the contents section of the site since their videos and photos are dated. This is not a major turn off though because it is guaranteed that a new video will be uploaded a day or two after. The site belongs to the All Fetishes and Amateur Girls niche.
Site Content
The site is very simple. It does not have too much colors and blings on its page. On its header you'll see the site's logo that is a simple I Like Fetish text and a heart symbol in the middle. There's also a slideshow displaying the site's contents that is labeled with the type of fetish and the date it was last updated. The menu of the site is also pretty friendly and easy to navigate. You can also see that the photos and the videos are in separate sections. This is a good idea knowing that this mega-site can be bombarded with photos and videos from its different sites, there's a tendency that these contents will be unmanageable. This way, the users will also find it easier to find what they like.
However, if you are looking for an advanced search engine, you cannot find that in this site. The site is also very responsive. This is already expected knowing that the site does not incorporate too much flash on its design. I think these are mostly HTML. Moreover, if you want to visit the site in your mobile devices, you can also do so since it also has a mobile version. On the content section of the page, you'll see when the site was last updated. There are some sites that are slow in giving updates so expect some delays in some of your favorite videos. As mentioned earlier, there are 9 sites that comprises this mega-site. There's Bound My Bitch which is a BDSM porn site. There's also Juicy Nudists which is a site that features gorgeous girls who goes out along the beach. These are not the typical beach bums that you see chilling under the sun because these girls are more comfortable walking naked rather than wearing those bikinis.
Some of the contents in this site feature some real public sex with these beach bitches. Smoke City is another site that features smoking hot girls while smoking a cigarette. Here, you can see girls wearing different sexy outfits, some are even wearing those tight fitting spandex covers. And speaking of spandex, there's also a site called Kelly in Spandex. From the site name itself, you can already tell that this is all about a girl named Kelly and her spandex suits. Those mentioned above are just few of the sites that you can see. There are a total of 500 videos and 1300 sets of pictures in the site. When it comes to the quality of the videos, you cannot expect that all of them are high quality. But in general, the videos are not that bad also. Each video lasts for about 10 minutes.
Actresses & Video Quality
The girls featured in this site vary from one another. There are girls with perky boobs and girls with slender figures. Lynn from Lynn HD is one example of these sluts who are an eye candy to your sexual desires. My favorite videos are the videos from Kelly In Spandex. You can clearly see those tight ass and those large breasts behind the spandex suit. I find the catwoman suit very sexy and the most alluring costume of all. Kelly's camel toe is the most erotic sight that you can see in these videos. It can indeed send those dicks off the roof. Aside from these shiny spandex get up, there are also videos that contains hardcore sex may it be girl to girl or boy to girl.
In Few Words
I personally think that I Like Fetish is an interesting site to explore. Going through every videos, you'll definitely catch yourself getting surprised endlessly. It is like an amazing combination of some of the most erotic videos. The amount of videos and photos will surely not keep you hanging. If you do, don't worry because there are new updates daily. The membership plan that it offers is also flexible and you can choose which of these plans fit your budget conveniently.
Visit ILikeFetish >>