IMLIVE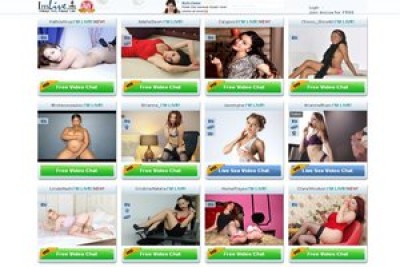 Overview
The IM Live is a live cam site, run from the United States, but offering hosts from all around the world. The site has a long history, a large database of hosts and some very nice features. The site offers you gorgeous hosts from all genders and all ages, a large number of porn niches covered, including some of the heavier topics. If you are looking for porn videos, than this site is not for you, but if you like beautiful people and you want to tell people what to do, this particular cam site will prove a very good choice. The IM Live is more than 10 years old. It has a long record of providing the members with excellent shows, good-looking models and good features. The competition in the cam-show business is very tight, though the IM Live is keeping up very well. The site is owned by a US company, and the folks there are doing an excellent job, keeping the site on the top. Right now, the IM Live is in the 6000 most visited sites of the whole world, and just the domain itself worth more than a million dollars. As for the actual site, you can see that there are all genders representing themselves, girls, guys, transsexuals and shemales. When you land on the site, the default setting is to view the girls alone (meaning solo shows), and as soon as you arrive, you can start browsing through the hosts. The site has no limitations when it comes to joining or becoming a host, so you can find all ethnicities and hosts from all around the world. The site is not just bragging about quality, it has industrial recognition too. The site has won three AVN Awards in five years as the Best Live Chat Website of the Year, and it won two YNot awards in a row in 2011 and 2012.
Site Content
Taking the tour around the sites is a quite rich experience. Since the membership itself is free, you could even use the free chat options, to get an insight on the girls, or find someone who can perform to your excitement. The site's layout is changeable, you can select from three listing types. The default is the Hosts' list, which shows the hosts in one long list. The other two options are featuring thumbnails; the first is the gallery view, while the other is a tiles view, which lists the hosts in a mosaic with thumbnails of various sizes. Another nice option for browsing is the multi-view, where you can list 6 different hosts stream in one window. Those who are not interested in live shows can enjoy the hosts' videos and video series, where they show you what they are capable of. Each performer has a profile page, where you can learn more about her/him, and you are also able to browse the picture gallery, and the watch the teaser video of the actual host. One important thing wasn't mentioned yet, and that is the quality of the videos. As far as a quick look into free chats lets it to be detected, there are more and more high-quality cameras in use, and a lot of near-HD or actual HD shows are available.
Actresses & Video Quality
There are so many chicks on IM Live and you can choose from fresh beauties with slim bodies and from some gorgeous MILFs that have mighty melons. On this site you will find real women from all around the world, like Asian, Latina, black, Indian or white girls. Watch them in some sensational shows in which they masturbate and they have huge orgasms! Just after you join IM Live you must take a look at the beautiful Jasmyne. That sensational woman with long hair and with blue eyes will show you some great shows. She is a dominant girl and she likes to make the men her personal slaves! If you want to be dominated by her, be sure to listen to all her commands and she will give you some incredible moments. She dresses in very sexy black lingerie and when she cums you will be in heaven, because she has such a sexy voice. Another beauty from IM Live is Kat Love, a gorgeous brunette that works as an artist. When she has free time, she opens her webcam and you will be amazed about how that girl looks. She is a tall brunette, with a beautiful face and with a perfect fit body. She has a fetish with leather clothes and you will love see her dressed in some great outfits. She plays with some big dildos and that woman can have multiple orgasms and she can teach you all about the female ejaculations! If you love chicks that enjoy sex and ready to try wild things in sex then IM Live is the best place to find these horny chicks. These chicks are crazy about sex and you can watch some amazing sucking and fucking live action on the site. The girls on IM Live will never disappoint you with their cock sucking skills!
In Few Words
The already large (nearly 80,000 hosts) database of models surely has at least one person who can capture your attention. Though the membership is free, for the private shows, you need load your account with credits. Be aware however that each host has different prices, and if you have a particular desire, use the search engine, to find the one who can do it for a good price.
Visit IM Live >>