IMMORALLIVE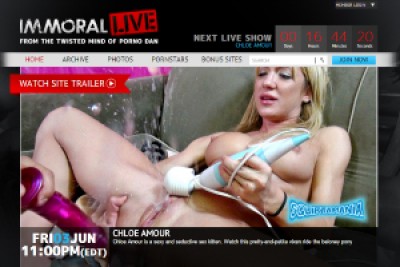 Overview
When sitting home on a lazy Sunday afternoon, people tend to have ideas that are porn oriented. I love those ideas, especially if they include some really good sites, and not all the crappy ones that you can find wherever you turn. Well, luckily, there is a site that I have found, and it is called Immoral Live. It hosts only live shows, and previous versions of those live shows. Hardcore action all around, and many more surprises, especially for those loyal members.
Site Content
The thing about this site that fell into notice is that it is great looking, and not just its content. The looks of the site are not important, to some people, but, what you first see when you join is the home page, obviously. That very page, with a black background, where the gray shades are actually girls having sex, seems to get the best out of Immoral Live, and place it right there in front of you, bites and crumbs, that will eventually lead you to join. And rightly so, as upon joining, you get access to so much content, lengthier, full feature, and some other perks that will appeal to your kinky nature. With the archive of videos being updated regularly, whenever a show passes, you can see everything, and with the sorting options, this already user-friendly site becomes more than just a pleasure to browse. It becomes sort of a friend, one that makes things better for you, with every passing moment. But, you should know that this friend likes things done fast, so you will experience no lag on the site, no matter whether you are watching the previous shows or a live one. With good optimization to top it all off, you can look at this amazing site's content from your mobile devices.
Actresses & Video Quality
The technical nature serves as a good introduction to the content, all of which is even better than the things mentioned above. The content has some really kinky girls, all of which are good looking, hot, if you will, to the point where just by looking at them, you can get aroused. That arousal can very quickly turn into an orgasm, with any of the live shows. Yes, there are more of them, and they are divided into categories. Some of the ones that I liked are Immoral Orgy, where girls eat each other's pussies, and play with toys, to the point of no return, where orgasms are everywhere. They are joined by males sometimes, to make things a bit more spicier. The Cock Sucking Challenge features two girls sucking on two cocks, and whoever gets her guy to cum first, wins. Squirtmania has an interesting name, and an even more interesting subject, as girls here get a lot of cum, as their partner usually gives them a facial to remember.
In Few Words
If I am not mistaken, Immoral Live gets you quite the deal, one that includes not just hardcore shows that are happening as you are watching, but so much more, sites to explore, porn to see and to masturbate to. If I were you, I would join this lovely site without losing another breath, as there is only to gain with its content and its perks.
Visit Immoral Live >>