INSANE3D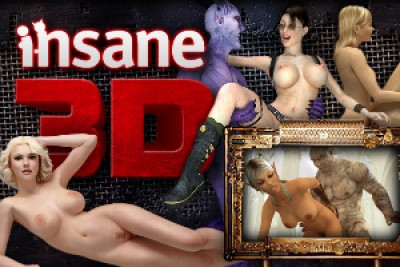 Overview
The Insane3D is not the regular kind of porn site you usually browse. Here, you won't find hot chicks banging with hot guys, or amateur cuties fucking their boyfriend, there are not even amateurs or professionals. The Insane3D is a 3D animated porn provider, where you can enjoy a large selection of hot photos, and a growing number of 3D porn videos. The flicks and the pictures are masterfully created, they are mostly quite detailed, and though the animation sometimes isn't too realistic, they ought to satisfy your needs. The Insane3D has been online for nearly two years, and it has been building its collection since then.
The company that runs this portal has no other websites listed, so the folks who work there can focus solely on this portal, thus providing you with the highest possible quality. The updates are mostly pictures, 1-2 sets are added weekly. You can enjoy here about 100 galleries, and just as much videos. The video update is more interesting, because the site won't give you the whole collection as soon as you sign up: you gain access to the videos one by one, usually also on a weekly basis, so you have to stay a member for a longer time if you want to watch them all.
The bonuses are scarce, but they are satisfying. Since this is a solo porn site, it's recommended to join for only those who like this kind of porn really much, and who are dedicated fans of 3D fantasy-fucking. When you open the site, you will see that there are some really juicy porn videos, and in case this is what turns you on, you will like what you see. The bonuses are related to the content: there're hardcore Flash-games inside to play, and you can view member-submitted pictures too. Some guys are really talented, and the submitted stuff sometimes even better than the site's own, professional content.
Site Content
The tour on the Insane3D will certainly make you curious about the actual content. This is a rich, nicely designed porn site, where you can find everything you want found, especially if it's a whole lot of hard sex and different people and creatures. There is a short clip you can watch, it serves as the trailer for the site's videos, and overall content. You can also use the different menus, categories, and you can gather more than enough information about the content. If you feel persuaded, join, and see what's on the inside. The members' zone is nearly the same as the outer page, only the menu is a bit simpler, and it's located on the top. Actually, the menu is just a list of the different categories: you can view every video, you have the option to reach your personal favorites, the favored pictures, and the members' content. On the bottom of the page, you can find a search field. The categories are the best way to explore the content, but if you are patient enough you could even browse the collection without any filtering.
The major content of the site is a gallery of standstills. These are all computer-created pictures, featuring hardcore sex, strange creatures and gorgeous girls. You will see that they are not exactly bad, and since they are in high resolution, they look really good. When you open the site, you might also come to the conclusion that these picture are truly something, and there is work and dedication in them. The highest resolution you can find is 1600×1200. There are in-browser viewing options, but the best way to enjoy the pictures without an issues is to save them in the offered zip file. Among the photos, you can also find sets of anaglyph pictures, which look weird without a 3D glass, but the cheapest simplest one will do fine. There are also some Flash-videos you can view, these are just few minutes long 3D intercourses, which are fun to watch, and if you are into it, you might even get turned on by it. The Flash-games are also quite nice, and they are good tools to spend the time with.
Actresses & Video Quality
The females of this site are all made-up, but they were created with care, so they look gorgeous. You can find here some cute human females, with the right kind of accessories on their body, but they often have to take on males of different species. Being a fantasy-focused porn collection, there are also females which are coming from another species, like cat-like girls, or the blue people from the Avatar movie. There are mostly humanoid creatures with tits, pussy and fine ass. However, the males are even varied. There are demons, werewolf, trolls, gremlins and goat-men, and even a whole lot of mythological creatures. Some sets feature celebs and pornstars, and they usually get fucked by creatures, and in every hole.
In Few Words
The Insane3D is one of those sites you have to visit if you are looking for hardcore porn, and you don't mind if it's fully unrealistic. These videos will certainly come in handy when you get tired of reality, and in case you have an interest in fantasy, then they will be even more exciting. The sex is fine, juicy, and there are always fun stories expanding in every set and on every animation.
Visit Insane3D >>
---
Need to clear further doubts?
Have a look at some other INSANE3D tips on some other great porn review sites!
TOPPORN.NET deal is: Trial N/A | Month $34.95 | Year N/A
---