IRONLOCKUP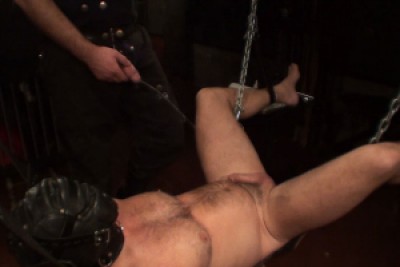 Overview
The IronLockup is a heavy hardcore gay site, where you can enjoy gay sex in BDSM porn sessions. Every scene is shot in a dungeon they built for this purpose, and the masters are giving their subs what they deserve. In case you like to watch hardcore porn, and you like it when it gets kinky, this site is recommended to you, and guys like you. It's a rather new portal, since it's barely three years old. During our visit we found over 200 hardcore scenes, which supports the site's claims of a weekly update schedule. It looks like though that the videos are updated regularly, photo sets weren't added since 2013. The movies of the site are shot by the same studio, and the participants are usually the same guys, at least the master, Mr. Pan and his two puppies. You can't access the site with any other gay-site membership, since this one is a standalone entity, powered by the AEBN through the program called GunzBlazing. Since the content is exclusive, we would like to highlight again that you won't be able to enjoy them elsewhere, not even if you are a member of other AEBN sites. As far as extras are concerned, we found that there are live cam shows to join, and video feeds from other sites of the company.
Site Content
To fit the main niche of the videos, the IronLockup has a dark-themed site. If you take the time and browse through it, you will get familiar with using it quite quickly, and by doing so, you also learn to use the members' area. The tour's best features are the free preview trailers. Since the members' area isn't much different, you will find it easy to navigate. There is a search field on the top, which you can use to scan through the growing collection. When you access the site from a smart phone, an optimized interface will load, thus making it easier to use it. Probably the most important thing about the site is that it's a streaming only portal. You can't save the videos, so if you want to watch one of them again, you have to keep an active membership. But, with the weekly additions and the extras it's not a big deal. The stream is in Flash-format, and you can play the videos in different qualities. It seems that the largest resolution you can get here is a regular 720p, which is quite satisfying for a streaming only portal.
Actors & Video Quality
In the movies of the IronLockup you can find mostly heavy hardcore BDSM scenarios, and this isn't from the soft kind. The subs get their limits stretched hard, and when they are at it, they seem to enjoy it pretty much. There are three person who appear regularly. One of them is the boss, Mr. Pan, who is the most dominative person on the site. He is the one who does the heavy things with his subs, and apart from making them unable to move, he penetrates the other guys' ass with different tools and devices. And when the hole is wide enough, he fucks them hard. Mr. Pan has two puppets: The Boy and The Puppy, these lads are also real gay performers, and they do a good job, though they are also subs. The subs are not mentioned by their names, only Mr. Kristofel, who is a kind of maniac to this, because he has no limits, and he really likes it when someone goes hard on him. As far as the models' appearance is concerned, you won't find here those puffed up gay lads who spend every time at the gym before and after shooting a scene. There are some fat fellas, just as skinny lads. They are not gorgeous, but they look hot when they are stretched and bend and unable to move. The videos here are heavy hardcore, and the not just the site's design, but the events taking place in them are really dark. There is a dungeon where all the action takes place, and these bastards are going to get what they deserve. The first thing you will notice, that their faces are mostly covered with masks or other elements, and they are usually gagged. This makes them vulnerable, Mr. Pan takes advantage of them in the hard way. The name of the site fits the content very well, because there are chains, whips, nipple clamps and whole lot of other stuff you could imagine. Most scenes feature actual sexual interaction too, Mr. Pan and his lackeys are using their subs as they see fit, and if they fight back, they consider that the subs were asking for it. The main attraction of the videos of course is the SM action, which includes not just ropes and chains, but there is also lots of punching, CBT, whipping. These videos are not for the soft-hearted ones, and if you don't like what you see on the pictures, you shouldn't go further.
In Few Words
Every video of the IronLockup is exclusive, which is a really big plus for this portal. It's a bit bad that they try to keep them exclusive by providing streaming only videos, but as far as we were able to detect, it works well for the site. Here you will find a large selection of porn, and since it's all BDSM you should really return now and then if this kind of sex is what turns you on. For a gay-porn collection this hard, the membership fee seems quite nice, and if you are a fan of BDSM, an account on the IronLockup is a must-have.
This site has been closed, you can find similar content by visiting our best gay porn sites collection.