JESSICAJAYMESXXX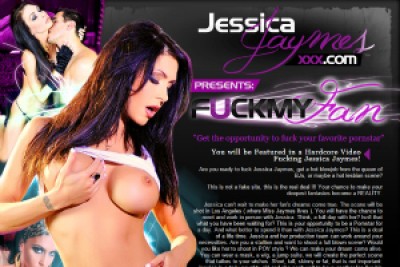 Overview
If you love watching porn star in action, then why not sample videos of one of the most prolific and beautiful of all? After all, Mr Jaymes really does know how to work it and this is clearly evident if you visit her website, named after her. You may have come across Jessica Jaymes from a multitude of porn titles which she has starred in. In the Penthouse Magazine, she was a pet of the month or for that matter Hustler when she became the first ever contracted model. There is also a good chance that you have seen her in the popular Showtime series Weeds or VH1 reality TV which was known as Celebrity Rehab. Needless to say, this girl gets around in more ways than one and so if you visit her official website, you will definitely be treated to exclusive high-quality contents. The website is also good when it comes to adding new contents and if you become one of its members, you will be guaranteed one live show every week. There are also some bonus websites which are up as offers. When I visited the website and set up an account to check out the contents, I found the sites Intimate Lesbian and Pornstar Tease to be wonderful additional sites to enjoy. Apart from that I also came across some of the other goodies such as a forum as well as a blog about Jessica. From these options I came to know that this sultry diva used to do live cam shows and still might be doing it. However information about an upcoming video is nowhere to be seen. In the scenes I found there were about 500+ videos and 400+ picture galleries and each of them were stunning in quality. The website also boasts of a wonderful download speed and you can download as many as you want without any issues. However if you are not a fan of the download mode and watch your videos online, there is a streaming option where you can watch the videos. The vids also play uninterrupted and with numerous close ups and clear audio quality, you will get ample opportunity to shake your bones.
Site Content
When we talk about the design of the website, it is superb. The layout seems to be fairly organized and the background appears to be sexy, just like its contents. There are ample hot pictures of Jessica posing in her birth attire and as you move down the home page, you will be able to gaze at the latest updates which the site has attained. The menus and navigation options are clearly given atop the website's home page and by just clicking on any one of them you can access the website without any issues. The website also has a sorting option which you can use to find out the models which you love. The user interface is also quite impressive and with the website being responsive with some of the popular operating systems in the market, you can watch the videos just about any time and from anywhere using your mobile phones. You can also download the vids in MP4, MOV formats and keep it as priced possessions. To have an account, you can simply click on the Join Now option and enter the details which the website asks of you. You can skip your worries as the website is sound in its security system. That same page where your account set up will take place will also have the subscription packages and selecting one which suits your needs, you can set your request. The website, instantly will affirm you about your account status and if found that it is successful, then you can access all the materials which are present in the website.
Actresses & Video Quality
The website is home to one of the hottest girls in the realm and she will be seen doing all kinds of kinky stuff to please her audience. She will be seen sucking cocks, fingering herself with sex toys, getting drilled by giant cocks. She is anyway a hot woman and in the videos which she participates she appears to be hotter. She will be accompanied by numerous other popular actors and together they steam up the action. The videos are available in 1080p HD formats with the highest one being in 1920x1080p HD resolution. The pictures are 1066×1600 HD resolutions. The videos are easily downloaded as well as viewed online using the website's flash media player and as for the pictures they can also be viewed as slide shows or downloaded together in zip files. The website also offers a wonderful model index which you can use to check out the model which you love to watch and in the update section you can easily find the recent additions. The website also adds new contents every single week and setting up an account means that you will always get some new video to download or watch.
In Few Words
Jessica Jaymes XXX is without a doubt a top website and if you are a fan of Ms Jaymes, the website will prove to be a happy hunting ground for you. Apart from this stunning diva, there are also many other horny sluts which you can check out. Being a member you are treated to a new video every week- mostly involving Jessica herself. Plus the rate of subscription is also quite cost-effective. There are also some bonus sites which are offered and so it does prove to be a good call to set up an account of your own.
This site has been closed but you could enjoy more amazing adult stuff on our best party porn sites list.