JOCKPUSSY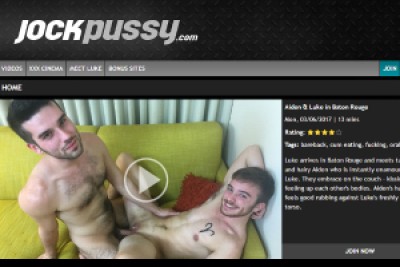 Overview
JockPussy is one of the finest gay hardcore porn sites to watch and that says a lot, considering that the site has not been around for so long, it has only been launched earlier this year (2017). The site features hot jocks getting it on heatedly with each other. As the site's name implies, it basically tackles gay porn at an ultimately hardcore level. "Jock pussy" would naturally point out to the guy's butt hole. I consider it the most creative way to describe it because that is exactly how they use it.
JockPussy is where you will find these good-looking and buff men lusting for each other in various places like locker rooms, doing the nasty right after a shower or a huge sports game. It mostly focuses on pretty boy Luke Hudson and his search for pleasure, along with other twinks who do not mind getting their jock pussies penetrated by toys or some real cock. Its niches are mostly focused on hardcore sex, gay porn, and fetishes. For delicious gay porn, JockPussy is certainly the best place to find them.
Site Content
The site is as simple as it can be and the navigation is as easy as it looks. The user interface is most definitely convenient and untroublesome, while the site layout is considerably neat and uncluttered. The links are found on the menu bar right on top of the site and it consists of the links that will most likely take you to where their entire video collections are to be found, a link to Luke and his profile, your favorites, the home page, and their most popular videos. The home page consists of the latest updates and latest uploads; it is also filled with video caps of the latest videos that are put up. It is accompanied by a short description of the scene, the dates, and the guys that are featured on it.
The same thing applies to all their available scenes. Now, as the site is new, you would think that there are not much features and things to do here but even right now, you can comment on the videos and rate them from one star to five stars. You can also add them to your favorites later in so you can have an easier access in the future. The site does not have any photo sets at the moment, but this is probably because the site has not been around for too long. Browsing is no big deal here, as you have plenty of options to choose from. You can make use of the pagination link, the sorting option (sort things out by dates, titles, and ratings), and the advanced search bar.
JockPussy has tons of bonus sites that come along with a premium membership. A normal one does not give you access to these bonus sites, but the other one will let you do so for free. There is little difference only that this one will be able to let you enjoy different porn sites and all their content for free. Consider it as a 20 in 1 sort of thing and with that thought, I am sure you will enjoy your time in here and, even if you feel that the site is a little mundane sometimes, you can always go for the other sites because they also possess differently themed porn scenes.
Actors & Video Quality
The boys of JockPussy may not have an actual pussy but their tight assholes are far better than any pussy out there; which is probably the reason why some men just cannot resist helping themselves out to an ass or two every now and then. In here, you just do not watch as guys fuck each other like there is no tomorrow, you get to see them pleasure themselves in various methods. Luke Hudson is the resident twink who runs his business with other buff and handsome jocks. The plot varies in a lot of ways and the site definitely knows how to deliver a great gay porn scene.
Currently, there are 15+ scenes in the site but that low content count is because of the fact that the site has only been launched recently. They update about once every week and that is a good enough deal. For the most part, each scene has its unique attribute and it may vary from time to time. The scenes can last for 20 to 25 minutes and those will be the best few minutes of your life. First off, there is no download option for the content in here but you will be able to stream them as much as you like in your browser but do make sure that your embedded Flash player is updated. You can resize your browser through it all but a more precise resolution is available. All the scenes are in high definition and have a 1920 x 1080 to 1280 x 720 pixel resolution usually. All the scenes are exclusive and cannot be found anywhere else other than here.
In Few Words
If it is hardcore gay porn you are after, you are better off in here than anywhere else. I am recommending this site despite it only being launched recently. This is because there is a lot of potential looming in here and when you do get access here, it would not be too hard to see why. Sure enough the updates need a little improvement but they do add stuff every week. The quality their videos possess is definitely satisfactory and their theme is unique when it comes to theme and deliverance.
Visit Jock Pussy >>