JUSTPLUMP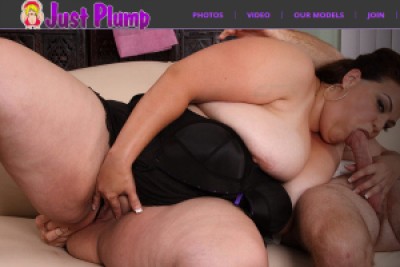 Overview
The JustPlump is a truly hard porn video website, which grants you the ability to browse and watch sex scenes of big and beautiful women. Those who don't know what that means should go to one of our regular porn site reviews instead. Nonetheless, the JustPlump is an exciting porn site, with over 4,000 scenes for you to enjoy, featuring some well-known, and not so famous porn actresses from the really plump type. The site keeps on updating, and you are going to find that almost every week they add something new and hot to the collection. In order to fully satisfy the members' needs, the JustPlump's crew makes a whole network of hardcore porn sites accessible for the members. These sites cover different hardcore niches, and they do offer you what you need.
Site Content
Well, you can't access the site's collection from the tour page, and you can't find out too much about the content either. The whole page is set up to look like a tube site, but in difference with those, here you can't play anything if you are not a member. You can view the models' however, and that might be enough for you to get the idea. Now, if you care to look around on the insight, let us tell you that you are going to face as surprise. The members' area is good to navigate, and it's not cluttered with ads and banners. You log in, you get to see the recent videos listed. The search is on the top, and you might select from categories, or you can search through the network too. The menu is a bit lower, it's nothing extra and it features only the usual options.
The videos pages are good to look upon, and you are going to see that these folks have some fine options offered to you. The first, probably quite evident option you can take advantage of is the streaming. You just have to click the play sign, and watch the action. It's a simple embedded player, and you are going to see that it's just there to fulfill its role, and nothing more. It grants a smooth, really fine playback though, even for those videos which play in HD. The file-format the site uses is MP4, and there are no other versions to download. The older videos have lower resolution of course, but the recent ones are all available in HD. There are over 6,500 standalone photo galleries for you, and we believe that you are going to love it. If you are a man who fancy big girls, the sometimes really hot modeling shots will certainly awake your curiosity.
Actresses & Video Quality
The JustPlump has a whole lot of hot, yet plump women, who seem to enjoy when they get their fat pussy licked and fucked. It's quite exciting to be honest, and this seemingly not totally exclusive collection seems to satisfy all your needs, fantasies and fixations, which are related to BBWs. On this website, you won't just get an exciting compilation, but you can also take advantage of the fact that the models are all professionals, and put on a great show. If you love BBW models, you are going to love these ladies. Why? Because the JustPlump gathered together a long list of models, and they are highly varied. You can find here the ever-popular Caucasian semi-professionals and professionals, who seem to put on an excellent show for your entertainment. They are varied in their appearance, and there are women, who are not as big as you would expect… but there are enough big girls, don't you worry about that. Among the plump models of the JustPlump, you will find some genuine Black girls to, who will show you everything they have, including their fine skills regarding sucking and spreading their legs. Apart from the Black and Caucasian hotties, you can also find here a few Latinas too.
Every video of the JustPlump seems to be professionally made, but we must say that they look quite old. Also, we had the feeling that these are not the most top scenes, and as we dug deeper into the collection we realized that there are lot of semi-professional content, and the girls are not exactly the big pornstars you may have been hoping for. Nevertheless, their experience is fine, and the performance they put on is truly great. You are going to find here a large number of videos, and though they are not that great in picture quality, the kinky BBW sex will surely make you horny and you are go to be kept interested in this selection. Concerning the actual action, you will see that these videos are certainly fun, and the sex in them is truly hot to watch. If you have a crush based on plump women, and you are not just about seeing them, but you like to watch them fucked, you are going to be a returning guest here. Those who enjoy watching hardcore porn, should find this a satisfactory selection as far as the sex is concerned.
In Few Words
In case you have a crush for plump girls, the JustPlump will surely become a favorite of you really soon. Watching hard sex is really exciting, and those who are into BBWs will find this highly varied collection to be not just sexy, but really worth its price. With more than 4,200 scenes already in store for you, and with the new ones added regularly, the JustPlump takes the top places in the arena of the BBW porn providers. Also, if you are not mad-crazy for BBWs, the network sites' selection might also satisfy your needs, and it's warmly recommended to check them. This website doesn't exist anymore, choose another site from out best paid porn sites list.