LADYBOYXXX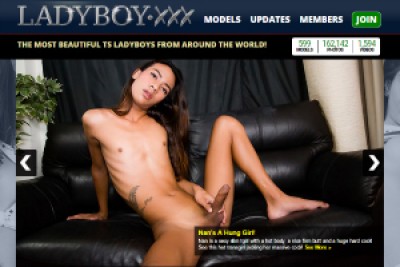 Overview
Ladyboys are everywhere now and they are more accepted compared to before so it is no surprise that a lot of porn companies in the industry like keeping up with the fad and giving some of us enthusiasts out there a new theme to gawk and spazz about. Transsexuals, if you are not too familiar with the term, are guys who got parts of their faces and bodies enhanced, but keeping their genitals in the process. It is nothing new and this has been around for a long period of time. Sure it seems a little different and fragmentary to a couple of people but believe me when I tell you that this is the next big thing. It is new and it is unique, and it is one of the best kind of porn out there. Gender does not matter, if you want a great time in a porn site, be sure to check these type of porn sites out because they bring the fun out of everything, not to mention it will ultimately pleasure you in more ways than one.
Unfortunately, there are only a few number of sites that truly bring out the best out of this theme but I could give it out to you! One of the best sites for this genre is LadyBoy.xxx, yes, just the site name itself is a totally give away and sure enough, the only thing you will find here are gorgeous ladyboys getting their freak on in different ways: there are individual shots, one on one shots, and group shots. It works how normal porn does, only it is hotter and it is steamier. LadyBoys.xxx has been around since June 2012 and is being managed by Grooby Bucks. Grooby Bucks is a company that manages tons of other worthwhile transsexual porn sites so you could say they are experts in this field, which also means LadyBoy is something you should be looking forward to. It is filled with great content, and an even greater quality to boot.
Site Content
LadyBoy with its simple site design will always be on the top of my list. With its blue theme, you could say it perfectly fits the genre and what they are trying to present to the public. Navigation in here is just as simple as you imagine. The interface is truly user-friendly and the site's arrangement is neat and orderly. The links can be found on the top most part of the site, above the slideshow consisting of different photos and descriptions. You will notice that they have a count on all things that matter like the number of ladyboy models they have, the total number of photos they host, and the total number of videos they present. There are tons of these and this makes LadyBoy a great place to find transsexual porn. There are tons of reasons why you should join this site and funnily enough, they have listed it down too!
The site is a haven for 100% exclusive content, meaning you will not find any of the content in here anywhere else. Their updates are regularly done and at the moment, it is steadily going at a very fast pace. The site is compatible with any device so you could access it and watch all the videos in different devices you have: iPads, iPhones, Androids, laptops, desktops, and many more. The site has around 2000 photo sets that can be downloaded in zip files. They contain about 150+ photos each and these are all in hi-res. These are professionally taken and they represent the transsexual site with greatness. There is a detailed model index that you can access. You can also comment on the videos they have for other people to see, as well as rate them to your liking. It does not only apply to the videos but to the models as well.
Although there are no ready sorting options, the site still provides its members with a detailed search engine (advanced search engine) and a pagination link to help their audience have an easy time. Along with these amazing content and features, bonus sites come for free with your LadyBoy membership. If that is not amazing, I have slight idea of what is.
Actresses & Video Quality
Since LadyBoy is a huge site with over 2000+ videos to boast about, it is no surprise that they are able to house tons of gorgeous porn stars here. According to the site admin themselves, LadyBoy has almost 600 models listed in their site and not one of them is bad looking. I scoured and scoured the entire site and familiarized myself with these exotic Asian chicks that will put some straight porn star to shame. Their hot and sexy bodies, their gorgeous faces, and their thick cocks will lure you in and make you enjoy the site in pleasure. The videos can either be streamed in your browser using an embedded Flash player in a 1280 x 720-pixel resolution or downloaded in MP4 format in the same resolution. Either way, you get great quality, 20 minute (or less) footage of solo activities or hardcore group sex. There is no download limit and these full-length videos has super HD playback. Again, the videos can be viewed in any device and delivers greatness.
In Few Words
With LadyBoy, you will always come back for more. Once you get the sweet taste of this porn site, you will be craving for more than just one day in here. I am so recommending this to anyone who loves or wants to explore transsexual porn. It is amazing, it is unique, and it brings out a really passionate feeling.
Visit Ladyboy XXX >>
---
Need to clear further doubts?
Have a look at some other LADYBOY XXX tips on some other great porn review sites!
---