LIVEPRIVATESHOTFLIRT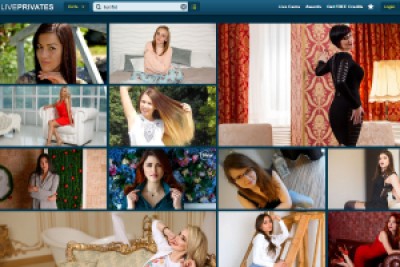 Overview
The LivePrivates is a place where you will find a bunch of hot, certainly sexy models performing live shows for you. As a live cam site, we have already written a review for this portal, but we must say, we were quite amazed to see what it offers on the "hot flirt" front. We have seen many live cam users' reviews, even models' opinions about the hot flirt category being at a still, but frankly, these girls were busy and really cute. In case you are looking for a girl to chat with or watch her dancing, you will love these models here. Those who seek something harder will find it that they have to look for their fun in other categories. Those who seek something friendly and non-naked will enjoy the show of these girls will be for their satisfaction.
As an adult site, the LivePrivates hasn't been around for too long. Launched only a few years ago, it's actually not a standalone site, as it's run by the same company that's behind the LiveJasmin. This means that you can enjoy all the benefits being a member of an industry leading site offers, while there are only a few issues, which actually doesn't worth talking about as they are not technical nor model-concerned. The fact that the same company runs the site that brought us the LJ, makes this site to be a very good alternative for live show fans especially because it doesn't have that sometimes disturbing wild red color the main company site has. The LivePrivates on its own has "only" about 30,000 models listed, more than 65% of this number are girls. If you need, you can still find some hot trannies, straight and gay males too.
Site Content
Regarding its style, the LivePrivates will get you in the mood for a hot flirt, because it has a calm blue color theme which doesn't give that unsettling feeling black or red colors would. As you land on the site, you will start to believe that there is a girl here somewhere who is waiting for you to have a hot, sexy chat with, but without nudity or an actual show. If that's what you are after, then the hot flirt girls at the LivePrivates are the ones you seek. There are several ways to navigate through the girls' list. The first and most basic option you can choose from are of the gender: girls, guys, trannies. Also, there is a search box, where you can either enter the attributes you are looking for in a girl, or pick from the menu next to the box. From this menu, you can select several attributes, such as body details and sizes, languages, and specialties like two-way audio, B-day or HD camera.
The wide range of options is more than enough to find someone you would like to watch, but you can use your own keywords, and if it's listed in the models' attributes or on their profile, you will certainly find them. There are many user features, which grant a fuller live cam experience. When you enter a girl's page, you will find the large player occupying almost the whole page. You have two other size options, for the better experience, you should go for the full-screen setup, the girls look quite good on HD, and even if you are just browsing their photos, the full screen is better. The stream on its own is quite good, though if the girls are broadcasting from home, it may be lagging a bit. But the overall quality is very good.
Actresses & Video Quality
Since we are reviewing the Hot Flirt category, we are actually looking at cute girls and ladies who are not going to get naked. It's against the rules to go naked in a Hot Flirt room; in free chat and in private too. Though you won't see them naked, the Hot Flirt girls are cute and they are very good in performing their softcore shows. What does Hot Flirt mean? Well, it means that there is no full nudity (tit-flashing and the likes are not approved either), and the shows feature mostly sexy dancing, and different fetishes, such as smoking or foot fetishes. There are many guys out there who are looking for a hottie to share their thoughts with, play the big guy in for them, compensating for the fact that they are not big and not clever.
The Hot Flirt and the Soul Mate models are usually quite clever, so they are not the dumb cunts who will go straight to insertions after you say 'hi'. There are different types of girls on the Hot Flirt page of the LivePrivates, most of them are quite sexy, and it's a somewhat a shame they won't go naked. Nevertheless, the shows can be still very exciting and arousing, especially if you have some non-sex related fetishes, such as foot fetish: watch the girls creaming or oiling their feet. Or you could fulfill your smoking fetish: many of these girls are smoking hot and they are smokers too. So, if you find smoking sexy, then pick one. Even if you are against smoking, you might a girl who is strictly against that.
In Few Words
On the LivePrivates you will see a lot of cute girls, who will be very eager to show you their skills in not sex-related shows. The hot flirt isn't for everyone. If you are impatient, or you are looking for a good sex-show, then this isn't for you. Those should try these chat rooms who seek some chatting, while they also have the option to go private and make that girl perform something sexy, such as dancing, soft teasing or something fetishist.
Visit LivePrivates Hot Flirt >>