LIVESEXASIANFETISH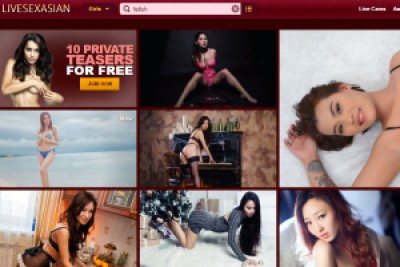 Overview
Since the LiveSexAsian had been online, guys from all around the world have a much easier way to access their favorite Asian live cam models. This portal is a sister to one of the industry's leading live cam show sites; however, in this case, the models are all Asians. They reside in different parts of the world, so you can find authentic Asians here, such as some hot US or European Asian models too. The LiveSexAsian is a kind of regular live cam show site, at least as far as the features and the available options are concerned.
Truth to be told, the site is a sidekick of the flagship of the company that runs this one, and most of the models are listed there too. This means, you will have to be quick when you are looking for a model because they have some extra exposure. As far as activity is concerned, depending on the time we logged in, we found 2-20 models online at a time when we picked the "fetish" from the features section. They were "taken" pretty quickly, which means that you should be on the edge, or book your show for a later date!
Site Content
In case you open up LiveSexAsian, you will see that there are many hot girls listed on the home page. However, we now need to use the filter, to see the girls who added fetishes to their features. If there are performers online in this category, you can view their free chat, given they are not in a private show. As an unregistered user, you will encounter a limit in how long you can view the girls for. Sign up, and the limit gets removed. The features of the site are the usual ones: you can open the girls' streams and change the size of the window.
Also, you have the regular user features, such as a favorites' list, gifting and messaging the models. With regards to the quality, we must say we were quite surprised to see that most of them have HD cameras. As a member, you can enlarge the window to full screen, and you are going to be able to enjoy the shows without a loss in quality. During a show, you can take pictures of the action; however, it looks like you don't have the option to record it. Well, that's nothing new; most of the live cam show sites don't allow it.
Actresses & Video Quality
The LiveSexAsian models are all professionals, at least that's what we think, and that's what their great shows tell. On this website, you are going to enjoy the shows of Asian live cam performers, who are not just hot, but when it comes down to fetishes, they are also quite nasty. We are quite sure that you will love to watch them perform and show off not just their bodily attributes, but also their great skill in pleasing their viewers: they strip their clothes, and wait for you to do your bidding. And you must tell them what you want to see! While you explore the models' database, you will find many hot girls, who have their body intact, with natural boobs and cute faces. However, there are those big professionals too, who have fake tits and big lips… and a great appetite which just helps them to get nastier during a show.
The actual performances are varied. Actually, the shows' content depends on you, your needs, and on the girl's features. There is hardly any fetish which isn't featured by at least one model, so if you have something kinky in mind, you should try your luck with the filters. Of course, to find out what a model actually could do, you might have to chat with her, sometimes they don't list all their features on their profile. Well, when you get in a private show, you will probably see that the girls are prepared. Some of these hotties are actually fetish specialists, and they have an armada of sex toys, clothes, and accessories at their disposal. You need to pick and tell them what to do with it.
We recommend that you go only for private shows when you have an exact, very specific fantasy, and you can write it down, so you don't have to spend your time typing, while your credits are ticking. So, imagine what you need, tell the girls and watch them do it! They are eager to dominate you or to be dominated, and they are also really keen to go for some anal insertion or get tied up or even gagged. Everything depends on your preferences and on your fantasies, so make sure to spend your time and credits wisely and be strict on what you wish to see!
In Few Words
Well, the LiveSexAsian has a fetish section that's not something to trifle with. Since Asians are usually considered as the physical manifestation of kink, the shows you can watch here will be like kink on the second! Though the fetishes are not exactly mainstream things, there are surprisingly many models performing it in live chat. There is actually no point in waiting to take a look, because the signup is free, and you won't have limits on free chat, so you can browse the girls and see if they are fitting for your tastes or not. You only need to load credits when you go privates, so there is nothing bad about joining the LiveSexAsian!
Visit LiveSexAsian Fetish >>