LOOKIAMHAIRY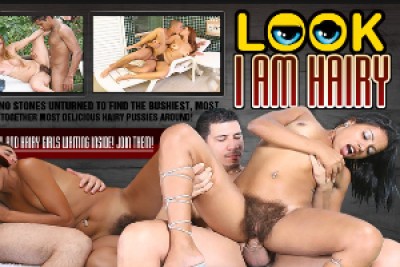 Overview
LookIAmHairy is a rather obvious title for this website and they are quite transparent with what they are all about. LookIAmHairy is an adult video viewing website about hirsute hotties, willing to show some skin with the exception of their hairy genitals. These ladies have banned razors near their regions and general shaving on their bodies as they dare to go au natural, all in the quest to see which man is brave enough to dive in and unleash the sexual demon within them. They'll even do just about anything just to have their muffs all ruffled and touched. So if you're tired of look at hairless surfaces and want to break away from the popular smooth and shaven ladies, then LookIAmHairy is your best source of hairy muff porn.
Site Content
Guests are only allowed to see the preview tiles and when you click on any tile, it prompts you to a log in page where guests can with sign up for an account or log in. When logged in, the website displays a navigation bar and everything you need to see is all on one page and to be honest, you only need one page. The goodies are all in the videos page because no one is really interested in the news section anyway. All the beaver beauties are put on full display as you pick your favorite lady perform. The overall design of the website actually has the same appearance similar to most amateur porn sites which may not be appealing to others, but in a producer's point of view, this is logical and makes business sense.
You might be sitting there completely baffled why I would go as far as to call LookIAmHairy's simple website as ingenious but the fact is: the company has chosen to spend money on their content instead. That's right. What most people don't know it take time and money to make an incredibly fancy website and LookIAmHairy has dedicated to creating quality content for their viewers by using their available funds, which is great because there are several website that look incredibly profession, but produce poor quality content. Their actions actually make perfect sense because I personally don't visit adult video websites just to browse at the quality of their home page. Since their unique branding is all about men and women going completely natural, I would understand why they need not to pimp their website when the main stars are these lovely hairy ladies and gentlemen.
One of the features from this website is having access to LookIAmHairy's other websites, which is part of their bonus content package. Be warned though, most of the website in the bonus content are what we call "Smoothies", women or men who are hairless in their nether regions. If you are a devout hairy pussy lover, then some of the bonus content may not be for you. Although, there are some quite amusing niche website available for your viewing pleasure.
Actresses & Video Quality
When they said they were hairy, they are really hairy! The women in this site apart from being exceedingly hairy are sexy, of different race and extremely horny. These women will do just about anything to have their unshaven pussies licked, sucked, fingered, banged, and even get jizzed on! These ladies are uninhibited, sexy, unpretentious, carefree, and they don't care about what society tells them what to do and what not to do about their hairy nether region. These are personality traits that would turn on any man, and make them give the love these women deserve. These ladies not professional porn stars, but their performance have professional quality. You can tell these women aren't faking it because when they spread their legs wide open, their pussies are glistening wet and they're just begging to get the best bang session.
Their hairiness is not because they are lazy and unhygienic towards personal grooming (in fact, they even take care to brush it every day!), it's because they aren't pressured by the social norms, people or even the porn industry to become the image of the perfect woman, which are hairless dolls. Not everyone is suited for that image and these women are confident in themselves to break that vicious image created by their twisted fantasies. People would like to think that hairy genitals are what holds them back from experiencing the best orgasm in their life, but the truth is, it doesn't make a difference at all. Since nothing holds them became they become this wild and insatiable creature with carnal desires that leaves their sexual partner spent and satisfied and, that's the thing I love about these hairy ladies.
In Few Words
LookIAmHairy is more than what it meets in its eyes. This one of a kind adult amateur website that has its quirks, but it also has its charms. It has quality content, it's updated frequently and the promise of hairy genitals is delivered. I got my money's worth with when LookIAmHairy promised me the sexiest and hairiest videos available and oh my stars, did they deliver and more! The hairy lifestyle may not appeal to everyone, but nothing but delivered promises turns me into becoming a loyal member of LookIAmHairy.
Visit Look I Am Hairy >>